Cruise Ship Casino Jobs
Back to All Shipboard Position Descriptions
Click Here for Casino Job Vacancies

Register for Cruise Ship Casino Jobs Now!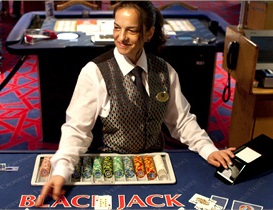 The Casino is the most profitable direct cash flow venue aboard any cruise ship. Some cruise lines run their own casino operations throughout their fleets, others have their casinos operated by specialized concessions. The Casino department offers the following cruise ship jobs: Casino Manager, Assistant Casino Manager, Casino Dealer/ Croupier, Casino Cashier and Slot Technician. In compliance with international custom laws, the casino is only allowed to open while in international waters usually three miles out to sea. Subsequently the staff only work while at sea and have port days off.
The ship's Casino is the most profitable department, therefore control and security measures must be kept very tight. He / she is in charge of the entire department and directly supervises supports and evaluates the performance of...
Meets on regular basis with subordinate casino staff to review passenger comments in order to implement revisions and improvements of current practices...
Reports to the ship's Casino Senior Supervisor and does not have supervisory responsibilities. He/ she is responsible for a proper conduct of various table games - Baccarat, Roulette, Black Jack, Let It Ride, Caribbean Stud Poker, Dice and others. The Casino Dealer would...
Responsible for the maintenance and repairs of all cruise ship casino devices and machines - slot machines, currency changers, card shuffling, coin-handling and other machines as well as video arcade games and...
Deals directly with passenger transactions at the casino cage - exchanges cash, coins, casino chips, charges credit cards and shipboard accounts, validates checks in an efficient and friendly manner. The Casino Cashier balances the cash float on...