Cruise Ship Casino Dealer / Croupier Jobs
Back to All Casino Job Descriptions
Click Here for Casino Dealer Job Vacancies
Casino Dealer Job Description and Duties: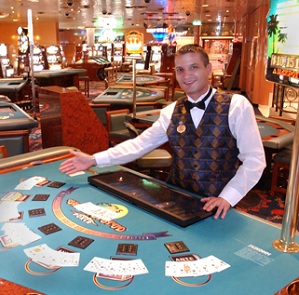 - Reports to the ship's Casino Senior Supervisor and does not have supervisory responsibilities
- Responsible for a proper conduct of various table games - Baccarat, Roulette, Black Jack, Let It Ride, Caribbean Stud Poker, Dice and others
- Monitor all players around the table in order to identify their individual playing style and to avoid cheating.
- In cases when a suspicious behaviour is detected he /she is obliged to notify the management as well as the ship's security personnel
- In case of dispute with a passenger, the duty of the Casino Dealer is to try to resolve the situation in a polite and professional manner and would refer to the superiors only escalating complaints
- Exchanges casino chips and tokens for money, announces the exchanges and updates clicker counting device to record the cash intake
- Ensures that players are informed about the rules of the game, all wagers are placed before the start of the game then performs the game, announces all winning hands and bets, pays winning bets and collects losing bets
- When assigned by the Casino Manager, he / she would take part in the casino cash and coins count
- Must be well groomed, keep presentable personal appearance and follow company guidelines regarding uniforms and personal hygiene
- The Casino Dealers on some cruise ships may be required to participate in passenger and crew safety drills as well as meeting passengers during embarkation and attending company meetings and training activities
Croupier / Casino Dealer Job Requirements:
High school diploma or basic education equivalent

College or university degree is preferred

Minimum one year Casino Dealer experience in a licensed casino conducting Blackjack and Roulette games, proficiency in other games is a plus

Some cruise lines and concessions running casinos aboard cruise ships require diploma from approved casino dealer school, others don't

Candidates must be able to differentiate very quickly the numbers on cards, dice, wheels and determine the outcome of the game

Excellent communication skills and good command of the English language are required, knowledge of additional languages is a plus

Previous cruise ship experience is an asset, but is not mandatory
Casino Dealer / Croupier Salary Range:
$2700-3600 U.S. per month, depending on the cruise line, commission and size of the ship. Possibilities for promotion to Assistant Casino Casino Manager position.