Cruise Ship Medical Jobs - Nurse, Doctor and Paramedic Positions
Back to All Shipboard Positions
Register for Cruise Ship Medical Jobs Now!
The medical department on board a cruise ship offers the following job positions: Chief (Senior) Doctor, Doctor, Nurse Practitioner (NP), Registered Nurse (RN) and Paramedic. The department usually consists of two doctors and anywhere from two to six registered nurses depending on the size of the ship, number of passengers and crew and on board medical facilities. Aboard cruise ships doing world cruises or remote itineraries, the need for a full surgical staff and a dentist may be more common. Cruise ship Doctors and nurses are hired either directly by the cruise line medical operations departments or through concessionaire companies servicing their line. All medical staff at a minimum are BLS and ACLS certified. All doctors and nurses enjoy the privilege of single (not shared) accommodation and the ability to bring along a spouse, other family member or a fiancée aboard the cruise ship.
For detailed job description, requirements and salary range, please click on position/s of interest:
The Chief Doctor/ Physician is the highest ranking Medical Officer and a head of the Medical Department aboard the ship. He/ she oversees and supervises the work activities of the ship's physician, lead nurse, nurse practitioners and nurses. The Doctor reports to the Captain of the ship as well as to...
The doctor (physician) reports to the ship's chief doctor and supervises the ship's lead nurse, nurse practitioners and registered nurses. The physician is responsible for the basic and emergency medical treatment of the crew members and in...
The Nurse Practitioner provides medical care to both passengers and crew members plus performing administrative duties in the Medical Clinic aboard the cruise ship. The Nurse Practitioner reports to the ship's Chief Doctor, ship's Physician as well as to the Fleet Chief Nursing Officer at the...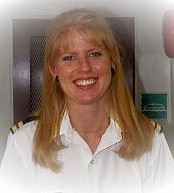 The Lead Nurse is in charge of the nursing staff aboard the cruise ship and reports to the ship's Physician, ship's Chief Doctor as well as to the Fleet Chief Nursing Officer at the head office of the cruise line. The Chief Nurse is...
The ship's nurse is an experienced Registered Nurse (RN) responsible to provide appropriate day-to-day health care to passengers and crew members aboard the cruise ship. The ship nurse reports and works under the direction of the ship's lead nurse, ship's physician and ship's chief doctor. She/ he is called first in case of...
Paramedic
The Paramedic is a part of the medical team aboard a cruise ship and works alongside experienced nurses and doctors. The Paramedic is the first line of medical care aboard, responds to emergency situations, treats the sick and injured and then continues that care in the medical center as part of cruise ship's medical team.
Job requirements: Nationally registered paramedics with minimum 2 years of paramedic experience and current professional certifications.