Cruise Ship Jobs - Lead / Chief Nurse Jobs
Register for Cruise Ship Lead Nurse Jobs Now!
All Medical Jobs Chief Doctor Jobs Ship Doctor Jobs Nurse Practitioner Jobs Registered Nurse Jobs
Lead / Chief Nurse Job Requirements: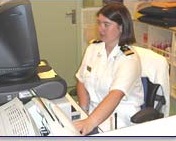 Must posses a diploma from an accredited nursing school.

Current certification as Registered Nurse (RN) with minimum three years clinical experience.

Must be able to perform BLS (Basic Life Support) and ACLS (Advanced Cardiac Life Support) procedures and treatments.

Some experience or a willingness and aptitude to learn simple laboratory procedures and operation of an x-ray machine.

Emergency Room and General Practice background preferred.

Experience with cardiac care, trauma, internal medicine preferred.

Excellent communication skills and good command of the English language, knowledge of additional language(s) is a plus.
Ship Lead/ Chief Nurse salary range:
$4800-5800 U.S. per month starting salary depending on the cruise line and accumulated experience with the company.
Cruise Ship Lead/ Chief Nurse Job Description:
The Lead/ Chief Nurse is in charge of the nursing staff aboard the cruise ship and reports to the ship's Physician, ship's Chief Doctor as well as to the Fleet Chief Nursing Officer at the head office of the cruise line. The Lead Nurse is an experienced ship's nurse who is responsible for providing and co-coordinating appropriate passengers and crew health care, appropriate functioning of the Medical Clinic and is also responsible for facilitating supervision of the other registered nurses within the cruise ship Medical Department. She/ he performs inventory control of supplies and medicines and takes care of other administrative duties, such as placing orders, arranging storage of stock, billing for medications and services, equipment checks and accurate patient record keeping.