Cruise Ship Deck Cadet Jobs
Back to All Deck Department Jobs
Deck Cadet Job Description and Duties: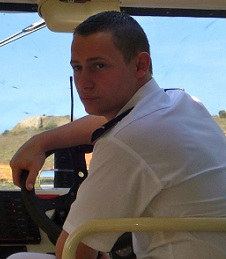 Some cruise lines offer fantastic Deck Cadet training programs for young people who wish to pursue a career as a Deck (Navigation) Officer aboard cruise ships. The best thing about these programs is that they are fully sponsored by the companies - once a candidate is selected, the company is paying the tuition fees and even pays a salary during the training. Upon completion of the program, successful candidates will receive a professional qualification - Certificate of Competency as an Officer of the Watch in addition to the academic qualification. The Deck Cadet training program should not be mixed up with Apprentice Deck Officer position.
While on training Deck Cadets will enjoy an adventurous lifestyle aboard some of the most glamorous cruise ships, travel the world and even get paid for it. The training uses a mixture of academic work which is combined with practical training both at college and at sea.
If for some reason you decide to move to a job ashore, your experience as a ship's deck officer will stand you in good stead. Technical and managerial skills learned at sea are readily transferable and can be developed by further training.
Deck Cadet program takes about three years to complete and is divided into several phases. Some of the phases are at a Nautical College and others are spent aboard cruise vessels serving as a Trainee Deck (Navigation) Officer and gaining valuable practical experience in marine navigation and all aspects of ship operation.
- A Deck (Navigation) Officer in training
- Reports to the designated Training Officer and to the Staff Captain
- Helps overseeing a safe navigation of the cruise vessel
- Under the guidance of the Training Officer gradually becomes familiar with all navigational instruments and equipment on the bridge
- Becomes familiar with various routines taking place on the bridge - port arrival and departure, anchoring, mooring etc.
- Supervises the Deck Ratings
- Participates in tender operations and learns to drive a tender
- Attends safety drills
- Spends time with other Departments and gains knowledge and a clear understanding of the overall operation of a cruise ship
Deck Cadet Job Requirements:
High grade passes at GCSE (grades A - B) / Scottish Standard level (1 - 2) or the equivalent in English, Mathematics, Physics or Combined Science and at least one other subject OR a minimum of 160 UCAS points (including a grade A-B in A level Maths or Science) plus grades A-B in GCSE's or equivalent in Maths, English and Science

Strong mathematical ability

Determination, resilience, flexibility and a positive, enthusiastic approach

Candidates will need to pass their colour and form vision test, demonstrating the absence of any colour deficiency
Deck Cadet Salary Range:
$1500 to 2200 U.S. per month depending on the cruise line. Upon completion of the program and successfully passing the exams (approx. 3 years, including time in Nautical College and practical training aboard ships) Deck Cadets receive Certificate of Competency as an Officer of the Watch and can be promoted to a regular 3rd or 2nd Deck (Navigation) Officer positions.