Cruise Ship Apprentice Deck Officer Jobs
Back to All Deck Department Jobs
Apprentice Deck Officer Job Description and Duties: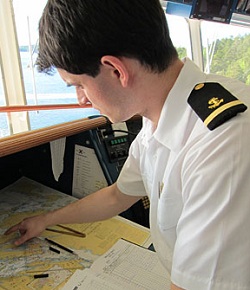 The Apprentice Programs of cruise lines attract apprentices from Maritime Schools and Universities worldwide eager to learn about the marine operations within a major cruise line using the latest technologies and collaborating with the leaders in the industry. This position should not be mixed up with a Deck Cadet Program. The candidates for Apprentice Deck Officer must be Nautical School students or graduates who are seeking practical experience or young Navigation Officers working aboard merchant or military vessels and looking for a career with cruise lines.
Upon completion of the contract and based on evaluation of the performance, the cruise line may offer to the best apprentices regular positions as 3rd or 2nd watch-keeping Officers with future opportunities for career advancement with the company.
- A Deck (Navigation) Officer in training
- Reports to the designated Training Officer and to the Staff Captain
- Works alongside the Bridge Team Members and learns about all aspects of the safe navigational watch aboard a large cruise vessel
- Under the guidance of the Training Officer gradually becomes familiar with all navigational instruments and equipment on the bridge
- Becomes familiar with various routines taking place on the bridge - port arrival and departure, anchoring, mooring etc.
- Gains theoretical and practical knowledge about the ship's safety equipment and devices - lifeboats, life rafts, life rings, watertight doors, splash doors, fire doors, sprinkler system, fire extinguishers etc.
- Attends safety drills
- Spends time with other Departments and gains knowledge and a clear understanding of the overall operation of a cruise ship
Apprentice Deck Officer Job Requirements:
Unlimited Officer of the Watch license (preferred, but not mandatory) plus all required STCW 95 certificates

Very good verbal and written command of the English language, knowledge of additional languages such as German, French or Spanish is preferred

Computer literacy - basic Windows based programs

Ability to participate in safety drills and required training
Apprentice Deck Officer Salary Range:
$1800 to 2200 U.S. per month depending on the cruise line. Possibilities for promotion to 3rd or directly to 2nd Officer position.