Cruise Ship Jobs - Destination, Special Interest, Port / Shopping Lecturer, Enrichment Program Positions
Back to All Shipboard Positions
Register for Cruise Ship Jobs Now!
Cruise lines hire various types of guest seminar speakers / lecturers for their enrichment programs and seminars aboard cruise ships. They are looking for individuals who have "hands on" knowledge and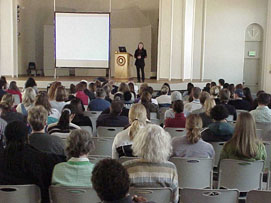 excellent interpersonal and communications skills. This programs are essential part of cruise activities. Candidates will be expected to make effective presentations to the passengers, and interact with the cruise staff, so the quality of the presentations must meet the high standards set by the cruise line. Although there are numerous type of lectures and seminars on various topics, cruise ship speakers / lecturers could be divided into three general groups:
Destination Speaker / Lecturer
A Destination Speaker's responsibility is to give a series of original presentations illustrating the culture, history, geography, anthropology, wildlife, marinelife and politics of the regions, countries and ports of call on a given cruise itinerary. For instance, a Speaker on a cruise to Mexico may discuss the Mexican-American War, foreign policy between the United States and Mexico, or the culture of the country. The talks should not be a reiteration of what to see-and-do in Puerto Vallarta. Rather, they should provide the guests with insight into the ports that one would not be able to find in an average guidebook. The Destination Speaker must have strong credentials and be an excellent and experienced public speaker as typical audience size ranges from 50-300 passengers for each talk. However, good news travels fast aboard ships and great Speakers / Lecturers have been known to pack the house!
Special Interest Speaker / Lecturer
Special Interest Speaker / Lecturer should discuss their area of expertise in a fun, educating and entertaining manner. The door is wide-open when it comes to this position as numerous fields of study are applicable. The topics of the seminars and lectures given do not necessarily have to be connected with the particular ports of call visited during the cruise. It is difficult to list all the topics for special interest lectures and seminars aboard cruise ships, but the spectrum is wide open - opera, theatre, classical music, photography, marinelife, wildlife, cooking, wine, art, movies, astronomy, lighthouses, animals, arts & crafts, earth science, medical, nutrition, world affairs, computers, fashion, geology, astronomy, self - improvement, just to name a few.
Port / Shopping Lecturer or Presenter
This type of position is somewhat different than the other two type of cruise ships speakers. The Port / Shopping Lecturer must have detailed knowledge about the ports of call, but most of all the speaker should recommend to passengers various stores and shops ashore and be in constant touch with vendors. Port / Shopping Lecturers are commonly used in the Caribbean for port shopping talks. Duties other than making presentations may vary from company to company. The job requires superior public speaking skills and sales training. Port / Shopping Lecturers often represent certain stores ashore and support passengers who shop at the recommended stores by guaranteeing the merchandise. Port lecturers must be, above all, enthusiastic and credible. A thorough knowledge of the Caribbean is also helpful.
For all types of cruise ship lecturers / speakers contracts and salary vary depending on the cruise line. For Port / Shopping Lecturers pay is usually base plus commission from various shops ashore.