Cruise Ship Jobs - Sommelier - Specialty Restaurant
Back to All Food and Beverage Jobs
Sommelier - Specialty Restaurant Job Description and Duties: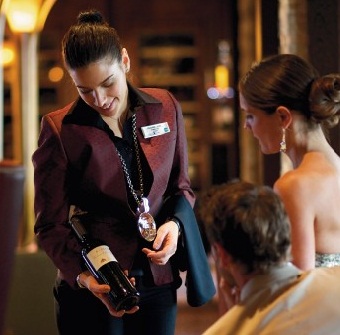 - Reports to the ship's Bar Manager/ Beverage Director and to the Maitre Dí/ Specialty Restaurant
- Supervises, supports and evaluates the performance of the subordinate positions in the Specialty Restaurant
- Responsible for providing courteous and professional wine and beverage service to guest in the assigned Specialty Restaurant aboard the cruise ship
- Responsible for increasing wine sales by demonstrating personal attention, consulting passengers on fine wine selection, and applying up-selling and suggestive selling techniques. Boosting wine sales leads also to higher commission and increase of his/her personal earnings
- The Sommelier - Specialty Restaurant is involved in the re-stocking of the wine cellar and helping with the loading wines to the cruise ship when necessary
- Follows company guidelines regarding uniforms and personal hygiene and ensures that the assigned work station is clean and sanitized according to the cruise line standards and USPH and/or UKPH rules
- Must be familiar with the Specialty Restaurant bar credit system in the wine stand and with the wine requisitioning and wine service procedures
- Works in close cooperation with the Cellar Master and is responsible for re-stocking of the wine cellar on a daily basis
Sommelier - Specialty Restaurant Job Requirements:
High school diploma or equivalent

Minimum one-two years of Sommelier experience in an upscale establishment

Cruise ship experience is preferred, but not mandatory

Excellent fine wines and premium beverages knowledge

Excellent communication skills and good command of the English language, knowledge of additional languages is a plus

Strong managerial skills and ability to work in a multicultural environment
Sommelier - Specialty Restaurant Salary Range:
$2200-3500 U.S. per month depending on the cruise line, size of ship, commission and gratuities from passengers. Strong possibilities for promotion to Dining Room Head Sommelier position.