Cruise Ship Jobs - Second Engineer
Back to All Engine Department Jobs
2nd Engineer Job Description and Duties: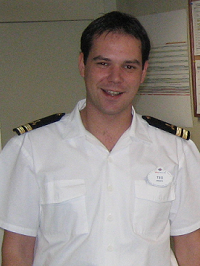 - Performs duties as delegated by The Chief Engineer and Staff Chief Engineer
- Acts as Engineer Watch Officer in the engine control room overseeing the operation, maintenance and repairs of subordinate engineers and engine ratings members of the cruise ship's engineering team
- Must be familiar and proficient in maintenance and repairs of the main and auxiliary engines and their belonging systems and equipment, ship's plants for fresh and sea water, boiler plant with related systems and equipment, emergency generators with their related systems, steering gear, stabizers, propeller shafts, stern tubes, bow thrusters, pneumatic valves with all belonging systems and equipment
- Reports to the 1st Engineer, Staff Chief Engineer and the Chief Engineer of the ship
- responsible for the maintenance of the ship's safety and emergency equipment - Watertight, fire and splash doors; lifeboats, life rafts and rescue boats winches; tender boats, lifeboats and rescue boats engines etc.
Second Engineer Job Requirements:
2nd Engineer License (CoC) without limitations (STCW-95 approved)

Experience as a 2nd Engineer or a 3rd Engineer on board ships

Degree in Mechanical or Marine Engineering from accredited maritime school or equivalent

Excellent verbal and written command of the English language
2nd Engineer Salary Range:
$5800 - 8000 U.S. per month and up depending on the cruise line. Possibilities for promotion to 1st Engineer position.