Cruise Ship Jobs - Restaurant Manager/ Maitre d'
Back to All Food and Beverage Jobs
Restaurant Manager/ Maitre d' Job Description and Duties: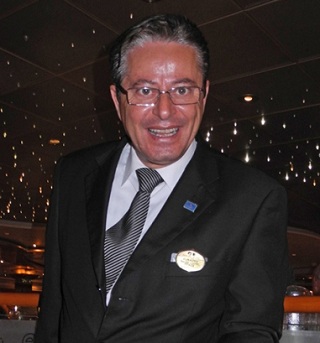 - The Restaurant Manager or Maitre D'/ Maitre dí Hotel is a three stripe officer and is in charge of all food service functions in the dining room(s), specialty restaurants and all other food outlets aboard the cruise ship
- Reports to the ship's Food and Beverage Manager/ Director and the ship's Hotel Director/ Manager and supervises the activities of all subordinate positions within the restaurant service field such as Specialty Restaurant Manager, Assistant Dining Room Manager, Head Waiter, Waiter, Assistant Waiter, Bar Waiter, Room Service Supervisor, Wine Sommelier/ Wine Waiter, Mess Supervisor
- Coordinates passenger table assignments in the main dining room(s) plus reservations for the specialty restaurants throughout the cruise ship
- The Maitre dí Hotel ensure that all Head Waiters and Waiters are properly trained in the cruise line's manner of waiter services and are fully knowledgeable as to the dishes being prepared by the galley and in the same time communicates on daily basis with the ship's Executive Chef and Food & Beverage Director/ Manager in order to ensure that the restaurants and galley aboard the cruise ship work in perfect coordination
- The Restaurant Manager also possesses a sound knowledge of wines and wine service, communicates with the ship's Bar Manager to discuss wine and bar service in the restaurants and monitors Bar Waiters and Wine Sommeliers performance
- Responsible for assigning work and vacation schedules to ship restaurant personnel and also for overseeing on-the-job training covering all aspects of service, menu education and etiquette
- Ensures that a full inventory and consumption record is maintained for all supplies and equipment assigned to the restaurants aboard the cruise ship
Maitre D'/ Restaurant Manager Job Requirements:
Formal hospitality training - a diploma from a recognised hotel school or university or international equivalent preferred

Minimum four years management experience in a fine dining restaurant (cruise ship experience preferred)

Excellent communication skills and good command of the English language, knowledge of additional languages is a plus

Strong managerial skills and ability to work in a multicultural environment
Restaurant Manager/ Maitre D' Salary Range:
$4800-5800 U.S. per month depending on depending on the cruise line, commission, bonuses, size of ship and gratuities (tips) from passengers. Possibilities for promotion to Asst. Food and Beverage Manager position.