Cruise Ship Jobs - Second Purser Administration - Guest Accounts
Register for Cruise Ship Accounting Jobs Now!
Second Purser Administration - Guest Accounts Job Description and Duties: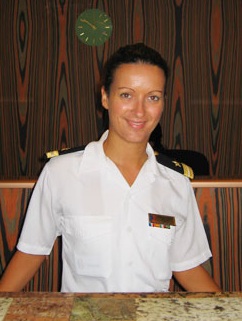 - Reports to the Financial Controller and Front Desk Manager
- Responsible for dealing with all passengers' financial transactions - cash, credit cards and onboard accounts
- Ensures that all passengers embarking the cruise ship activate their cruise cards for on board charging either by securing the onboard accounts with a major credit card, cash deposit or alternative form of payment
- The 2-nd Purser/ Administration transmits credit card charges to Global Card Services (responsible for authorizing payments of major credit cards - Visa, MasterCard, American Express etc.) to obtain proper authorization or denial and in case of denial contacts the passenger in order to establish alternative form of payment
- Responsible for printing and delivery to the guests staterooms the final statements before the end of the cruise
- He/ she is involved with the on-the-job training of the Front Desk personnel in relation with all financially related transactions conducted at the Purserís/ Front Desk
Second Purser Administration - Guest Accounts Job Requirements:
High school diploma or equivalent and a minimum one year in a payroll or accounting processing position within the hospitality industry or financial institution or an equivalent combination of experience and education

Candidates must be proficient in operating basic office equipment, such as calculators, telephones, computers and copy machines as well as internet access, and basic software packages such as Excel, Word, and PowerPoint

Must be able to communicate tactfully with guests in order to resolve problems and negotiate resolutions

Excellent communication skills and good command of the English language, knowledge of additional languages is a plus

Ability to work under pressure in a multicultural environment
Second Purser Administration - Guest Accounts Salary Range:
$3200-3600 U.S. per month, depending on the cruise line. Possibilities for promotion to First Purser Administration or Financial Controller position.