Cruise Ship Pool & Deck Supervisor (Head Pool Butler) Jobs
Back to All Housekeeping Department Jobs
Pool & Deck Supervisor Job Description and Duties: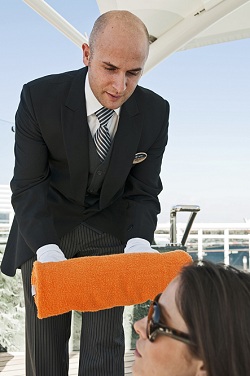 The Pool & Deck Supervisor (Head Pool Butler) coordinates and assists with the activities of Pool Butlers (Pool & Deck Attendants) that

maintain the pool and deck areas in clean and orderly condition. His/her main duties and responsibilities include, but are not limited to:
- Reports to the Chief (Executive) Housekeeper
- Responsible for overseeing the opening, maintaining and closing of pool decks, attachment and detachment of nets over the pools
- Notifies management of the malfunction of lighting, heating and ventilation equipment
- Attends meetings, training activities, courses and all other work-related activities as required
- Notifies the Executive (Chief) Housekeeper regarding his/her team work schedules
- Duties will also be assigned in housekeeping when the pool area is closed
- Ensures that deck lounge chairs are stored properly each night and familiarizes himself/herself with the next day's weather forecast in order to prepare the pool decks accordingly
- Provides on-the-job training to Pool & Deck Attendants (Pool Butlers) in order to improve their performance and prepare them for possible
career advancement in the future
- Supervises and participates in the pool towel procedures - providing towels to guest and transportation of towels from and to the laundry facilities
- Ensures that each Pool Butler (Pool & Deck Attendant) reports to his/her assignment on time and properly groomed and dressed according to cruise line's standards of service.
- Attends passenger and crew safety drills
Cruise Ship Pool & Deck Supervisor (Head Pool Butler) Job Requirements:
Minimum one year previous Pool Attendant (Butler) experience

Upscale hotel or cruise ship experience is preferred, but not mandatory

Ability to communicate tactfully with guests and shipboard employees

Candidates wtih high school diploma or equivalent level of education are preferred

Good verbal command of the English language

Ability to speak additional language(s) is a plus

Ability to work under pressure in multicultural environment
Pool & Deck Supervisor Salary Range:
$1600 to 1900 U.S. per month depending on gratuities and on the cruise line. Advancement in the carrier path for candidates could be in either the Housekeeping or the Food and Beverage department.