Cruise Ship Nail Technician (Stylist) Jobs
Back to All Beauty Salon and Fitness Job Descriptions
Click Here for Nail Technician Job Vacancies
Nail Technician Job Description and Duties: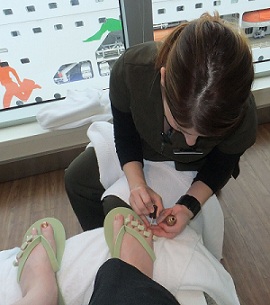 - Reports to the ship's Beauty Salon / Spa Manager and Asst. Manager
- Completion of a Nail Technician training course required
- Qualification in Manicure and Pedicure equivalent to NVQ Level 2
- Ability to do a full set of ACRYLIC nails including French polish
- Performs deluxe Elemis rituals for the feet and hands
- Use of the Gentle Touch Teeth Whitening system (training provided)
- The Nail Stylist informs and educates guests regarding various Manicure and Pedicure issues and handles concerns and questions in a professional and courteous manner
- Should be knowledgeable and familiar with all products and services offered by the ship's beauty salon/ spa division
- Handles complaints in a polite and professional manner and resolves situations in favour of guests complete satisfaction
- Must be well groomed, keep presentable personal appearance and follow company guidelines regarding uniforms and personal hygiene
- Participates in courses, meetings and training programs in order to develop the necessary skills needed for promotion to superior level position
- Participates in displays and demonstrations in the Grand Plaza Atrium or other venues throughout the ship, promoting all products and services offered by the onboard Beauty Salon / Spa
Cruise Ship Nail Technician Job Requirements:
North American candidates must hold a license or a diploma as a nail technician and must have the ability to do a full set of ACRYLIC or GEL nails in 1 hour and 10 minutes including French polish. Must be able to do French polish, using white acrylic powder for the tips, and pink acrylic powder for the rest of the nail and be proficient in the use of tips and forms. Candidates will also be asked to demonstrate a polish during the interview process

European candidates must posses a certificate for the system acrylic nails as a basic. This can be the creative system, easy flow system or OPI system. Nail technicians must have one year experience and be able to do a new full set of acrylic nails in 1 hour 10 minutes. Candidates will also be asked to demonstrate a polish during the intervew process

Candidates from Australia, New Zealand and South Africa must posses Level 2 NVQ in manicure and pedicure and must be able to perform all procedures listed above

Candidates from all other countries must have a good command of the English language, similar qualification, equivalent national certifications and be able to perform the nail treatments listed above
Nail Technician Salary Range:
$2400 - 4200 U.S. per month depending on gratuities, comission on sales, size and itineraries of the cruise ship. Possibilities for promotion to Assistant Beauty Salon/ Spa Manager position.