Cruise Ship Jobs - Maitre Dí Specialty Restaurant
Back to All Food and Beverage Jobs
Maitre Dí Specialty Restaurant Job Description and Duties: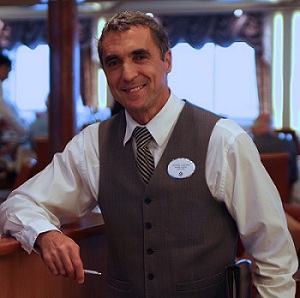 - Reports to ship's Food &Beverage Manager and to the Restaurant Manager and directly supervises, supports and evaluates the performance of the subordinate positions in the Specialty Restaurant - Assistant Maitre Dí Specialty Restaurant, Head Chef de Rang, Chef de Rang, Commis de Rang, Sommelier and Utility Cleaner
- Mentors, develops and provides on-the-job training to new recruits in order to improve their current performance allowing them to gain skills and abilities for future advancement
- Responsible for notifying the Restaurant Manager/ Maitre D' of any cases of disciplinary actions or poor performance
- Works in close cooperation with the Food and Beverage Manager, Restaurant Manager, Executive Chef and Bar Manager in order to insure full coordination of operations between Main Dining Room(s), Galley and the Specialty Restaurant as well as providing appropriate wine and beverage service in the venue
- Responsible for the overall maintenance of the venue reporting any repair or replacement needs to the Food and Beverage Manager
- Ensures that the appearance of the restaurant as well as all items (waiter stations, tables, linen, silver, crockery) are up to the cruise line's standards, orders new items through the ship's Provision Master when needed
- Ensures that all the Specialty Restaurant staff are trained and familiar with USPH or/and UKPH regulations and sanitation in all work stations is up to the required standards
- Promotes special products, such as champagnes, premium cognacs and rare wines in order to increase sales as well as makes sure that food and beverage items are requisitioned in correct quantities in order to avoid over-stocking and keep operational cost within the limits set by the cruise line
Maitre Dí Specialty Restaurant Job Requirements:
Formal hospitality training - a diploma from a recognised hotel school or university or international equivalent is preferred

Minimum three to four years hospitality management experience including front of house and back of house operations. Cruise ship experience preferred

Excellent communication skills and good command of the English language, knowledge of additional language(s) is a plus

Strong managerial skills and ability to work in a multicultural environment

Working knowledge of computers, emails, Microsoft Word, Excel and related printers and equipment
Maitre Dí Specialty Restaurant Salary Range:
$3800-5200 U.S. per month depending on depending on the cruise line, commission, bonuses, size of ship and gratuities (tips) from passengers. Possibilities for promotion to Restaurant Manager/ Maitre D' position.