Cruise Ship Jobs - Assistant (Junior) Waiter / Waitress
Back to All Food and Beverage Jobs
Assistant Waiter / Waitress Job Description and Duties: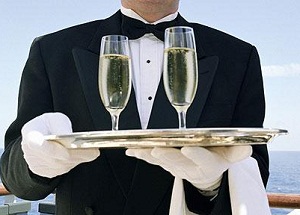 - Reports to the Waiter, Head Waiter and Assistant Restaurant Manager
- Directly supervises, trains and monitors the performance of the subordinate Restaurant Operation positions assigned to his/ her work station - Busboy (Bus Person) and Dining Room Utility Cleaner
- Provides assistance and support to the assigned waiter in anticipating and fulfilling the passengers requests
- Responsible for serving non-alcoholic beverages and bread, ordering, pick-up and delivery of food and beverage items to the work station and tables and transporting back to the galley the soiled dishes, glassware and silverware
- Provides assistance to the assigned waiter, waitress in setting up tables, linen, glassware, silverware and china as well as presents food and beverage menus to passengers
- Responsible for achieving and exceeding revenue levels set by the cruise line through suggesting various courses and wines to passengers and applying up-selling and suggestive selling techniques
- Participates in the rotational schedule working in the dining room and in other food and beverage outlets throughout the cruise ship
- Ensures that the assigned work station is clean and sanitized according to the cruise line standards and USPH and/or UKPH rules
- Actively participate in dining room entertainment according to established practices of the cruise line and alterations based on the specific itinerary - Pirates'Nights, Caribbean nights, Italian nights etc.
Junior Waiter / Waitress Job Requirements:
Minimum one - two years experience in a high volume food operation establishment

Upscale restaurant, hotel, resort or cruise ship experience is preferred

Good interpersonal skills, positive attitude and willingness to learn

High school diploma or basic education equivalent is preferred

Excellent communication skills and good command of the English language, knowledge of additional languages is a plus.

Ability to work in a multicultural environment.
Assistant Waiter / Waitress Salary Range:
$1800-2800 U.S. per month depending on the cruise line, size of ship and gratuities from passengers. Possibilities for promotion to Dining Waiter / Waitress position.