Cruise Ship IT, Information Technology And Internet Manager Jobs
Back to All Shipboard Positions
Register for Cruise Ship Jobs Now!
The IT department staff members are responsible for operating and maintaining all aspects of the cruise ships onboard computer systems, both hardware and software. The entire hotel department is operated by an internal computer system and candidates are required to have thorough knowledge of network operating systems management, configuration, techniques and topologies. Experience with the major software applications is also a must.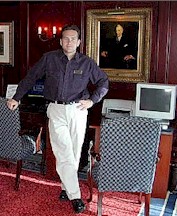 Internet Cafe's and computer centers are becoming increasingly more popular onboard cruise ships worldwide. The way in which they operate varies according to the cruise line or concessionaire running the facilities. The computer labs are overseen by a computer officer or Internet cafe manager and in some cases have as many as 5 lecturers helping out. Internet service onboard a cruise ship is transmitted via satellite, resulting in a much higher cost involved in collecting regular e-mail. The computer centers do however offer a lot more than just Internet services. Basic computer skills are taught, classes are given and equipment is freely used by passengers. A thorough knowledge of computers, computer & Internet services and major software applications is required.
Shipboard Systems Manager (responsible for the day to day operations of AS/400/Windows NT/POS platforms while living onboard a passenger cruise ship). The position requires a motivated self-starter with 1-2 years AS/400 and Win/NT experience. POS knowledge a plus. The position requires living onboard a passenger cruise ship for four consecutive months, fluent English Language skills required. Salary range: $6000-6800 U.S. per month, depending on the cruise line.

Computer Systems Hardware Technician - installs, maintains, troubleshoots and upgrades computer hardware, software, personal computer networks, peripheral equipment and electronic mail systems; assesses user training needs and trains users in effective use of applications. Qualifications: Equivalent to completion of two years of college-level coursework in computer science, information technology or a related field and two years of general computer installation, maintenance and repair experience. Fluent English Language skills required. Salary range: $5000-5700 U.S. per month, depending on the cruise line.

Internet Manager. Position requires basic computer knowledge, proficiency in Microsoft office, sales and managerial experience and excellent customer service skills. Must be creative, self motivated, multi-task oriented and possess excellent written and oral communication and presentation skills. Energetic and outgoing personality is a plus. Internet Savvy a must. Fluent English Language skills required. Salary range: $2100-2400 U.S. per month, depending on the cruise line.