Cruise Ship Jobs - Head Butler
Back to All Housekeeping Department Jobs
Head Butler Job Description and Duties: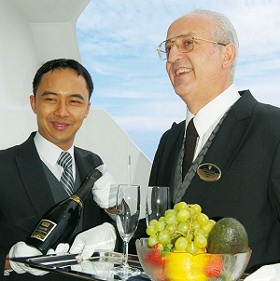 The function of the Head Butler is to train and supervise the Butlers on board the cruise ship according to the company standards of service and style. The main duties and responsibilities of the Head Butler include, but are not limited to:
- Reports to the Chief (Executive) Housekeeper
- Ensures that each Butler under his/her supervision reports to their assignment on time and properly groomed and dressed - clean uniform and proper shoes, name tag, and any other uniform-related items
- Makes certain that during embarkation all Butlers go to the guest suites assigned to them, introduce themselves and explain the services they will be offering during the cruise
- Offers to the suite guests assistance with unpacking of luggage, explains the meal times and locations, shows and explains the use of life jackets and safety deposit boxes
- Monitors Butler team activities so that all suites are prepared before embarkation with all the amenities and informational material required, such as cruise line booklets, fruit baskets, flowers, service menu, food and beverage menu
- Ensures that all Butlers in his/her team attend meetings, training activities, courses and all other work-related activities as required
- Prepares Butler schedule and assigns duties and stations in conjunction with the Executive (Chief) Housekeeper
- In conjunction with the Executive Housekeeper, coaches, supervises and evaluates the performance of all Butlers aboard the cruise vessel
- In addition to supervising and training of the Butlers, he/she will be responsible for working together with his/her team in order to ensure that all personalized services and information are provided to eligible suite guests
- Conducts random checks to ensure that all services requested by guests through their assigned Butlers are followed and scheduled as requested
- Participates in passenger and crew safety drills
Cruise Ship Head Butler Job Requirements:
Minimum of 2 years food and beverage service experience in an upscale hotel, resort or cruise ship

Superior customer service, team building and conflict resolution skills

Previous experience in a role of Butler preferred, but not mandatory

Candidates wtih high school diploma or equivalent level of education are preferred

Very good verbal and written command of the English language

Ability to speak additional language(s) is a plus

strong management skills and ability to work in multicultural environment
Head Butler Salary Range:
$2800 to 3800 U.S. per month depending on gratuities and on the cruise line. Possibilities for promotion to Housekeeping Supervisor position.