Cruise Ship Jobs - Food and Beverage Manager (Director)
Back to All Food and Beverage Jobs
Food and Beverage Manager / Director Job Description and Duties:
- The Food and Beverage Director / Manager directly reports to the Hotel Director / Manager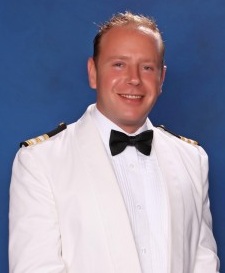 - Supports and monitors the performance of the subordinate management level positions within the department, such as Assistant Food & Beverage Director / Manager, Food Managers, Beverage Manager, Bar Manager and Executive Chef
- Closely monitors all financial transactions and the overall budget of the Food & Beverage department - food cost, bars revenue, personnel overtime in order to ensure expense reduction and that expenditures stay within the budget limits
- Works in close cooperation with ship's Safety Officer and the Staff Captain to ensure that all safety standards and regulations are met according to the cruise lines rules and international standards
- Ensures that proper on-the-job training is provided to all staff on all levels in all areas within the Food and Beverage department
- Performs general supervision and quality control of all Food and Beverage products and services offered on the cruise ship making sure the highest standards of the cruise line are met and the department exceeds passenger's expectations
- The Food and Beverage Manager ensures that USPH procedures for sanitation and cleanliness are met at all times, enforces and follows USPH cleaning procedures for work surfaces and all related equipment
- Along other heads of departments the Food & Beverage Director attends on regular basis meetings called by the Hotel Manager or the Captain of the ship ensuring the best possible coordination and cooperation between the various shipboard departments thus providing outstanding quality of services to guests
Food and Beverage Director / Manager Job Requirements:
Minimum High School education or equivalent.

Hospitality management, business administration or related field diploma from a recognised hotel school or university is preferred.

Cruise ship experience is preferred.

Minimum of three years serving as Hotel Manager or Food & Beverage Manager on land or previous senior management background aboard a cruise ship.

Strong managerial skills and ability to work in a multicultural environment.

Excellent command of the English language required.
Food and Beverage Manager / Director Salary Range:
$5800-7400 U.S. per month depending on depending on the cruise line, commission and size of the ship. Possibilities for promotion from Food and Beverage Manager/ Director to Hotel Director/ Manager position.