Cruise Ship 1st Officer - Navigation Jobs
Back to All Deck Department Jobs
1st Officer Job Description and Duties: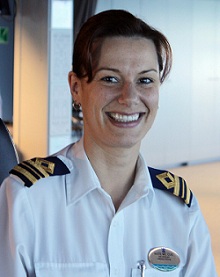 - Reports to the Captain (Master) and to the Staff Captain
- The 1st Officer is a bridge Watch keeper (Officer of the Watch or OOW) and on behalf of the Master is responsible for all navigational and watch keeping issues
- The OOW may act as the bridge manager, monitoring the bridge operation and watch keeping, reporting any deficiencies related to the navigational, safety, security and environmental aspects of the operations to the Staff Captain
- Responsible for the voyage planning, execution and monitoring of current and future cruises, assessing accurate weather forecasts and navigational warnings for the relevant area prior departure according to the Master's standing orders
- Ensures that all navigational equipment, electronic instruments, navigational lights, standard and emergency signalling devices are in proper working condition and serviced on regular basis by the technical department
- Makes sure that all navigational charts required for the voyage are available and up-to-date
- Keeps the Master updated regarding all aspects of the navigational progress during the cruise, such as current position, speed etc.
- Ensures the all information required for safe navigation is available, such as the appropriate sailing directions, light lists, tidal information etc.
- Responsible for the ship's stability system during his/her watch and in general assisting the Staff Captain in this duty
- Attends mooring stations and makes sure that mooring or anchoring is always performed in a safe manner
- Maintains both the Deck and the Official Log Books
- Participates in safety drills and assists the Safety Officer in related crew training


First Officer Job Requirements:
Unlimited Officer of the Watch certification plus all required STCW 95 certificates

Diploma from an accredited maritime training school or facility

Minimum 6 months experience in similar or subordinate position on board ships and up to date experience of all current navigational electronics and computerized equipment

Very good verbal and written command of the English language

Computer literacy - basic Windows based programs

Good administration skills and ability to prioritise

Decision Making, coaching and team building skills
1st Officer - Navigation Salary Range:
$5500 to 8000 U.S. per month depending on the cruise line. Possibilities for promotion to a Staff Captain position.