Cruise Ship Pool & Deck Attendant (Pool Butler) Jobs
Back to All Housekeeping Department Jobs
Pool & Deck Attendant Job Description and Duties: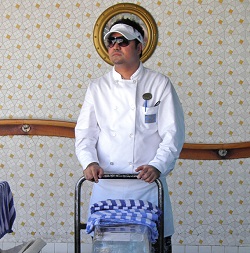 The Pool & Deck Attendant (Pool Butler or Deck Steward) maintains the pool area in clean and orderly condition. His/her duties and

responsibilities include but are not limited to:
- Reports to the Pool & Deck Supervisor (Head Pool Butler)
- Maintains a safe, clean and sanitary pool area for guests
- Follows procedures to open and close the pool each day, cleans and picks up in the evening. Attaches and detaches net over the pool
- Works in collaboration with other crew members working on the pool deck (Deck Department, Restaurant, Bar Department, Galley, etc.) in
order to ensure total guest satisfaction
- Empties and cleans waste baskets and ashtrays and transports trash to disposal area
- Greets and welcomes all guests going to the pool area according to the cruise line's standards of service
- Provides and exchanges towels for guests in all open pool deck areas. Folds and transports used towels to the laundry facilities
- Stacks chairs and transports them to assigned pool or deck areas
- Maintains deck furniture in a clean and orderly fashion
- Maintains current knowledge of the ship's regular events and special functions by reviewing all available data in order to provide guests
with accurate information to answer questions
- The Pool Butler must communicate beverage orders with the Bar Staff in a timely manner
- Assists the food service personnel in the collection of soiled glasses, china, cutlery, etc. throughout the pool area. Transports to
designated collection areas
- Responds to any type of emergency by dialing the ship's emergency number
- Attends all crew and passenger safety drills
Cruise Ship Pool Butler (Pool & Deck Attendant) Job Requirements:
Minimum one year previous Pool Attendant (Butler) experience

Upscale hotel or cruise ship experience is preferred, but not mandatory

Ability to communicate tactfully with guests and shipboard employees

Candidates wtih high school diploma or equivalent level of education are preferred

Good verbal command of the English language

Ability to speak additional language(s) is a plus

Ability to work under pressure in multicultural environment
Pool Butler Salary Range:
$1200 to 1600 U.S. per month depending on gratuities and on the cruise line. Possibilities for promotion to Pool & Deck Supervisor (Pool Head Butler) position.