Cruise Ship Jobs - Gentleman Dance Host / Social Host
Back to All Shipboard Positions
Register for Cruise Ship Dance Host Jobs Now!


Luxury cruise lines developed the Dance Host program in order to accompany unescorted women on the dance floor and during other shipboard entertainment activities. Historically, this tradition began because a larger proportion of women to men traveled on the ships and the cruise lines wanted to enhance their enjoyment on the cruise by having hosts available to escort them at social functions, shore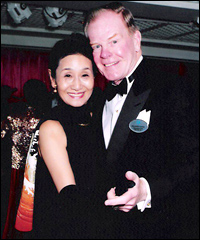 excursions and other activities. Women responded very positively to the concept of Dance Hosts. It made them feel welcomed aboard the ships and at the same time it gave the Dance Host an opportunity to travel, meet interesting people and be a part of the cruise staff team.

Cruise lines invite anywhere from two to six men aboard to dance, interact and share the activities aboard the ship. Dance Hosts should be a mature gentlemen and act as a goodwill ambassadors for the cruise line. They should be in good health, have competent dance ability, have excellent social skills, a positive attitude and be charming conversationalists. Good manners are required and hosts must adhere to very strict moral standards.

Many hosts that currently sail aboard cruise ships have backgrounds as professionals in the areas of law, business, travel, finance, medicine, military and education. Dance hosts are required to be single, divorced or widowed. Many hosts are retired or semi-retired and they have the opportunity to sail on several cruises a year. Dance Hosts must be capable of doing all the Ballroom and Latin Dances - Foxtrot, Swing, Waltz, Rumba, and Cha-Cha. Being able to dance other type of dances is a plus - Tango, Samba, Quick Step, Merengue, Salsa, Two-Step, Polka, Viennese Waltz, etc.
It is very important to know that this is not a paid position aboard a cruise ship. Gentlemen Dance Hosts exchange their services for free cruises, room and board.