Cruise (Activities) Staff Jobs
Back to All Guest Activities Jobs
Cruise (Activities) Staff Job Description and Duties: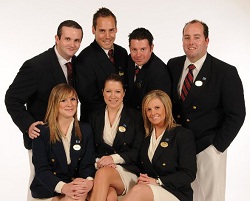 - Hosts coordinates and participates in all adult shipboard recreational, entertainment and social activities
- Participates in guest embarkation and disembarkation procedures by disseminating information and directing guests to staterooms as scheduled by the Assistant Cruise Director
- Seeks out guest contact displaying enthusiasm and boundless amounts of energy and socializes with guests in public areas and lounges throughout the ship
- Acts as an assistant emcee (master of ceremonies) to inform and entertain small and large groups of guests during special events and shows such as Welcome Aboard Show, Captain's Cocktail Party, Guests' Talent Show, Theme Nights etc.
- Attends door greets, welcomes guests entering and exiting the theater for evening shows
- Participates in guests' safety drills, demonstrating the proper use of life jackets and other safety related equipment
- Provides information and directions to guests on and off the gangways of the ship during visits to various ports of call
- Participates in the organization and coordination of all Bingo game activities aboard the ship including inventory, promotion, selling of cards, hosting under the guidance and supervision of the Cruise Director and Asst. Cruise Director
- Joins passenger shore tours at ports of call as an escort, providing assistance to guests and evaluating the performance of the local tour guides
Cruise (Activities) Staff Job Requirements:
Ability to capture and manage the attention of a large group of people using effective and courteous microphone techniques

Completion of high school or basic education equivalency

One to two years master of ceremonies or professional entertainment (theatre, music, dance, comedy, etc.) experience with resorts, cruise lines, entertainment or recreational industries is preferred

Excellent verbal and written command of the English language, knowledge of another language(s) is a plus

Superior customer service, teambuilding and conflict resolution skills

Must be professional, polished and guest service oriented
Cruise (Activities) Staff Salary Range:
$1800 - 2300 U.S. per month depending on the cruise line. Possibilities for promotion to Assistant Cruise Director position.