Cruise Ship Captain / Master Jobs
Back to All Deck Department Jobs
Captain Job Description and Duties: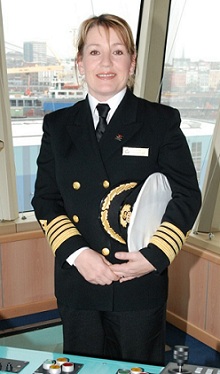 - The Captain is the highest ranking officer and the Master of the cruise ship
- Reports directly to the Home Office of the cruise line
- Responsible for all operations aboard the vessel, including but not limited to navigation, safety and medical care of all souls aboard (both guests and crew), protection of environment in compliance with the cruise line's policies, local authorities and International Maritime Law
- The Master has a full authority to make executive decisions in order to preserve the life and safety of the ship's personnel and guest and must apply extreme care and proper judgement according to any given situation
- Ensures that the Staff Captain as a second in command is aware of all aspects of operations of the ship and is capable to assume Master's functions at any time
- Fully responsible for crisis management and course of action in case of emergency, the only person authorized to issue the "abandon ship" order should he/she decides that this is the only option for saving the lives of all souls aboard the vessel
- Carries out social responsibilities such as appearing at the Captain's Welcome Cocktail Party, Welcome Aboard Party, Captain's Circle Party (for repeated cruisers) etc.
- According to the International Maritime Law the Master has the authority to conduct wedding ceremonies when the ship is located in international waters
- Ensures that all ship's charts, documents, certifications are up to date and compliant with the cruise line policies and local authorities requirements
- Makes sure that all safety equipment - lifeboats, life rafts, watertight doors, splash doors, fire doors, sprinkler systems etc. are in proper working condition
- Ensures that all new crew members are instructed regarding their emergency duties according to the cruise line safety policy
- Makes sure that the ship is seaworthy in all respects and prepared for the conditions anticipated for the voyage including correct trim and stability
Master Job Requirements:
National Certificate of Competency (Unlimited Masterís license) plus all applicable STCW 95 certificaes

Diploma from an accredited maritime training school or facility

Minimum three years experience in a Master or Staff Captain role aboard a cruise vessel

Excellent verbal and written command of the English language

Supreme leadership and decision making skills along with ability to work under pressure in multicultural environment
Captain / Master Salary Range:
$8000 to 10000 U.S. per month and up depending on the cruise line and time served with the company.