Cruise Ship Jobs - Buffet Steward / Stewardess
Back to All Food and Beverage Jobs
Buffet Steward / Stewardess Job Description and Duties: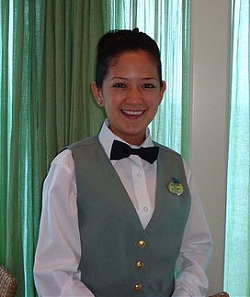 - Reports to the Buffet (Casual Dining) Restaurant Manager
- In the evening The Buffet Steward is responsible for taking orders and serving food and beverages to both passengers and ship's officers and staff members who have the so called "deck privileges" and are allowed to use some passenger dining facilities (officers and staff members are obliged to leave to The Buffet Steward/ Stewardess a set amount gratuity/ tip for each sitting thus boosting server's earnings)
- Responsible for setting up tables, linen, glassware, silverware and china
- Presenting food and beverage menus to passengers within the assigned area of the Buffet/ Casual Dining Restaurant
- During the day time this food and beverage venue works as a self-service buffet and the main duties of the Buffet Steward/ Stewardess are to clean tables, transporting back to the buffet galley soiled dishes, glassware and silverware and refilling coffee and complimentary non-alcoholic beverages.
- Responsible for keeping cost and expenses to the limits set by the cruise line by minimizing breakage and wastage of china, glassware, silverware and other materials
- Follows company guidelines regarding uniforms and personal hygiene and ensures that the assigned work station is clean and sanitized according to the cruise line standards and USPH and/or UKPH rules as well as follows proper procedures when disposing of garbage
Buffet Steward / Stewardess Job Requirements:
This is an entry level position and it is at the bottom of food and beverage serving positions aboard a cruise ship. Most candidates apply for Buffet Steward/Stewardess/ Server jobs in order to "set a foot" in the cruise line system and then climb up their way to better paying position through internal promotion

Some previous job experience in the field is preferred

Good interpersonal skills, positive attitude and willingness to learn

High school diploma or basic education equivalent is preferred

Good command of the English language, is required, knowledge of additional languages is a plus

Candidates must be customer service focused and eager to work in a high-volume, fast-paced guest service environment
Buffet Steward / Stewardess Salary Range:
$1600-2000 U.S. per month depending on the cruise line, size of ship and gratuities from passengers. Possibilities for promotion to Junior Waiter / Waitress or Bar Server position.