Cruise Ship Jobs - Buffet / Snack Attendant
Back to All Food and Beverage Jobs
Buffet / Snack Attendant Job Description and Duties: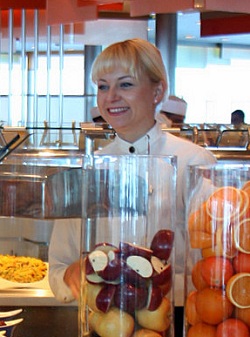 - Reports to the Buffet (Casual Dining) Restaurant Manager
- Responsible for assisting with the set up and decoration of buffets, midnight snacks and replenishing the food and beverages in his/ her assigned station in the buffet line
- Takes part in food and beverage stock transportation from the main storeroom of the cruise ship to the top-deck Buffet Restaurant
- Follows the cruse line guidelines regarding uniforms and personal hygiene and ensures that cleaning and sanitizing of his/ her assigned area is always up to the standards of the cruise line and according to the USPH and/or UKPH regulations
- Would participate in courses, meetings and training programs in order to develop the necessary skills needed for promotion to superior level position
- While attending the buffet line The Snack Attendant would interact with passengers and must be able to answer questions regarding the displayed food and beverages
- The Buffet Attendant would also work at the buffet line in the cruise line's "private island" (many of the cruise lines do have exclusive resorts in the Caribbean which are part of the itinerary of most of their ships operating in the region - Castaway Cay for Disney Cruise Line, Princess Cays for Princess Cruises, Coco Cay and Labadee for Royal Caribbean Cruise Line, Half Moon Cay for Carnival Cruise Line and Holland America Line, Great Stirrup Cay for Norwegian Cruise Line etc.)
Buffet / Snack Attendant Job Requirements:
This is an entry level position and is at the bottom of passenger food and beverage serving positions aboard the cruise ship. Most candidates apply for Buffet Attendant jobs in order to "set a foot" in the cruise line system and then climb up their way to better paying position through internal promotion

Some previous job experience in the field is preferred

The candidates must posses good interpersonal skills, positive attitude and willingness to learn

Must be customer service focused and eager to work in a high-volume, fast-paced guest service environment

Fair command of the English language is required, knowledge of additional languages is a plus

Candidates must be customer service focused and eager to work in a high-volume, fast-paced guest service environment

Knowledge of proper cleaning techniques and use of cleaning equipment is required
Buffet / Snack Attendant Salary Range:
$1200-1500 U.S. per month depending on the cruise line, size of ship and gratuities from passengers. Possibilities for promotion to Buffet Steward / Stewardess, Junior Waiter / Waitress or Bar Server position.