Cruise Ship Jobs - Buffet / Casual Dining Restaurant Manager
Back to All Food and Beverage Jobs
Buffet / Casual Dining Restaurant Manager Job Description and Duties: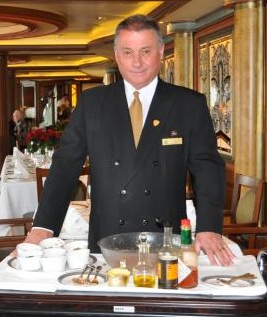 - Reports to ship's Food and Beverage Manager/ Director and the ship's Hotel Director/ Manager and supervises the activities of all subordinate positions within the Buffet/ Casual Dining Restaurant - Buffet Steward/ Stewardess/ Casual Dining Server, Buffet Attendant/ Snack Attendant.
- Responsible for the appearance, time keeping, service standards and on-the-job day-to-day training of the subordinate F&B positions within the venue in order to develop their professional skills and prepare them for future advancement and promotions
- Oversees the assignment of duties, responsibilities and workstations to direct reports making sure that the highest quality of food and service are offered to passengers all the time according the the cruise line standarts
- Works in close cooperation with the Maitre d' Hotel and Room Service Supervisor in order to ensure allocation of Food and Beverage personnel to various venues on the cruise ship based on passenger trafic
- Ensures that all costs are minimized and within the limits set by the Food and Beverage Direcor
- Makes sure that all the Buffet/ CasualDining Restaurant staff are trained and familiar with USPH or/and UKPH regulations and sanitation in all work stations is up to the required standards
Buffet / Casual Dining Restaurant Manager Job Requirements:
Formal hospitality training - a diploma from a recognised hotel school or university or international equivalent preferred or combination of education and experience

Two to three years of previous restaurant management experience in a restaurant, hotel or resort. Cruise ship experience preferred

Excellent communication skills and good command of the English language, knowledge of additional language(s) is a plus.

Strong managerial skills and ability to work in a multicultural environment.

Working knowledge of computers, emails, Microsoft Word, Excel and related printers and equipment

Extensive knowledge of food handling procedures with regard to public health standards
Buffet / Casual Dining Restaurant Manager Salary Range:
$3600-5200 U.S. per month depending on depending on the cruise line, commission, bonuses, size of ship and gratuities (tips) from passengers. Possibilities for promotion to Dining Room Maitre D' position.