Cruise Ship Bosun (Boatswain) Jobs
Back to All Deck Department Jobs
Bosun Job Description and Duties: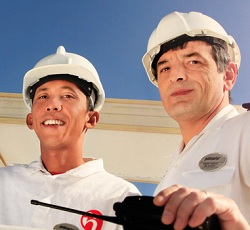 The Bosun or Boatswain is the highest ranking rating (non-officer) position in the Deck Department. The Bosun is in charge of all subordinate deck rating positions aboard the cruise ship and his/her main duties and responsibilities include, but are not limited to:
- Supervises, coordinates, coaches and evaluates all non-officer deck personal - Quartermaster, Carpenter, Able Seaman, Ordinary Seaman positions
- In conjunction with the Staff Captain plans and schedules all activities in regards to regular maintenance of all areas of the cruise vessel not maintained by the engineering department - cleaning, painting the ship's hull and all deck equipment
- Assigns daily tasks to the deck crew and checks the completed work for compliance with the cruise lines standards and operating procedures
- The Boatswain plays a key role in mooring and anchoring operations and must be well versed in handling lines, knots, whipping, splices and hitches
- Must be fully proficient in operating tenders and rescue boats
- Participates in all major safety drills as well as in U.S. Coast Guard inspections
- Attends on regular basis meetings, training activities and courses as required by the company policies
Cruise Ship Bosun Job Requirements:
Minimum of 3 years experience in a role of Bosun or 5 years as Able Seaman aboard ships

Experience aboard a cruise vessel is preferred

Candidates must posses strong coaching, decision making, conflict resolution and team building skills

Must hold Basic Safety Course Certificate and appropriate licenses and certificates

Good verbal and written command of the English language

Ability to speak additional language(s) is a plus
Bosun Salary Range:
$2500 to 4700 U.S. per month and up depending on the cruise line and time served with the company. Possibilities for promotion to a Deck Officer position after obtaining required license and certificates.