Cruise Ship Barber Jobs
Back to All Beauty Salon and Fitness Job Descriptions
Click Here for Barber Job Vacancies
Barber Job Description and Duties: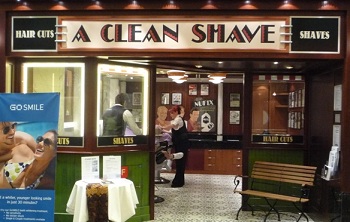 - Reports to the ship's Beauty Salon / Spa Manager and Asst. Manager
- Offers cutting edge services to the fastest growing clientele aboard cruise vessels - men
- Exciting new role for the experienced barber
- Performs gents hair cutting
- Offers dynamic menís facials to smooth and re-energise the skin and soften the beard
- Performs two shaves to provide the closest shave possible
- Relaxing face and scalp massage treatments
- Cuts hair using barbering techniques
- Styles hair using drying and setting techniques
- Shampoos and conditions hair and scalp
- Changes hair colour using basic techniques
- Perms and neutralises hair
- Dries hair into shape and creates a finished look
Cruise Ship Barber Job Requirements:
North American candidates for barber position must hold a license in Cosmetology or Hairdressing

European candidates - Cidesco, Itec, Inter clinitique, ROC, or IA College. National diplomas with minimum 2 years long education are also accepted, with the following subjects included in the studies: face cleansing therapy, face electrical treatments, electrical body treatments, manicure, pedicure and full body massage

Candidates from Australia and New Zealand must have Cert 3, or equivalent qualification

South African candidates must posses Level 2 NVQ Certificate or equivalent

Candidates from all other countries must have a good command of the English language, similar qualification and equivalent national certifications
Barber Salary Range:
$2200 - 4000 U.S. per month depending on gratuities, comission on sales, size and itineraries of the cruise ship. Possibilities for promotion to Assistant Beauty Salon/ Spa Manager position.