Cruise Ship Jobs - Bar Utility / Bar Back
Back to All Food and Beverage Jobs
Bar Utility / Bar Back Job Description and Duties: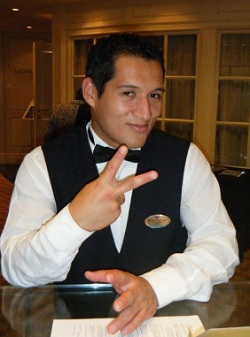 - Reports to the Bartenders and the Head Bartender
- Responsible for assisting the bartenders in maintaining and keeping the bar, lounge, pantry areas, all glassware and equipment clean and properly organized
- Responsible for re-stocking of bar items and for collecting and transporting supplies (beverage products, dry snacks, glassware etc.) from the ship's storage area to the various beverage outlets around the cruise ship as well as for transporting ice in appropriate containers for the bartenders and bar servers
- Constantly monitors the quantity of glassware and ice in the assigned beverage outlet and ensures that there is always a sufficient supply of them
- The Bar Utility is in charge of the glass washing machine and would place all glassware in the proper racks as well as making sure that soap and rinse-aid for the glass washing machine are well stocked
- Monitors the supply of glassware and to re-stock when necessary
- Keeps the dry snacks refilled and the ice bins replenished on regular basis
- Follows the cruse line guidelines regarding uniforms and personal hygiene and ensures that cleaning and sanitizing of the assigned bar, lounge and pantry area is always up to the standards of the cruise line and according to the USPH and/or UKPH regulations
- He/ she would participate in courses, meetings and training programs, would observe how the bartenders prepare the drinks and would try to learn all about the bar operation in order to develop the necessary skills needed for promotion to superior level position(s)
Bar Utility / Bar Back Job Requirements:
This is an entry level position

Previous bar related experience is preferred but not mandatory

Adequate Knowledge of proper cleaning techniques and use of cleaning equipment is required

The candidates must posses good interpersonal skills, positive attitude and willingness to learn as well as be customer service focused and eager to work in a high-volume, fast-paced guest service environment

High school diploma or basic education equivalent is preferred, but not mandatory

Basic command of the English language is required, knowledge of additional languages is a plus

Most candidates apply for Bar Utility jobs in order to "set a foot" in the cruise line system and then climb up their way to better paying position through internal promotion
Bar Utility / Bar Back Salary Range:
$1200-1600 U.S. per month depending the cruise line, size of ship and cut of gratuities (tips). Strong possibilities for promotion from Bar Utility to Bar Server or Bartender position.