Cruise Ship Art Sales / Art Auctioneer Jobs
Back to All Shipboard Positions
Register for Cruise Ship Art Sales Jobs Now!
More cruise lines are opting to add auctions to their ongoing list of entertainment and services offered aboard cruise vessels. There are several concession companies who run art auctions and permanent gallery exhibitions and sales on board of most cruise ships. Auctions are among the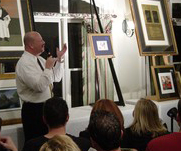 most profitable activities aboard along with the casino, bars and gift shops and are run in a similar way to land based auctions, with the auctioneer giving a brief talk on each piece prior to bidding. Most of the companies offer the following Art Sales positions:
Principle Art Auctioneer
The Principle Art Auctioneer is the head of the Art Department and is responsible for managing all sales related to art on board the ship - promotion, direct sales and hosted live auctions. Conducts the latter in well organized, fast-paced and entertaining manner reaching a broad spectrum of perspective bidders and (eventually) buyers.
She/he must demonstrate at all times an in-depth knowledge about individual items, the respective artist and in fine arts in general.
He/she is also responsible for the on-the-job training of the assigned Associate Auctioneers passing to them knowledge, skills and secrets of the trade and making sure that they gradually become capable of assuming the role of Principle Art Auctioneer.
Another very important activity related with this position is a constant interaction with passengers in all public areas of the ship - atrium, lounges, bars, open decks etc. initiating conversations, educating guests on fine art, actively looking for art patrons and collectors, pointing out places and times of auctions and presentations, describing available paintings and other pieces of art in order to maximize sales revenue.
The Principle Art Auctioneer also develops and coordinates marketing strategies for cross-sales in conjunction with other departments on board the cruise ship - Gift Shops, Photo, Food and Beverage, Spa, Casino, Entertainment etc. organizing mutually beneficial events and raising the awareness and interest of potential customers to available pieces of art.
The job involves certain administrative duties, as well - maintaining records of all sales (direct or via live auction) and inventory transactions; completes all documents and certificates of authenticity accompanying each piece of art, required by shipboard or / and shore side authorities; receives and offloads inventory (with the help of the Associate Auctioneer and Art Stewards); organizing the shipping of purchased items to designated by the costumer address.
Principal Art Auctioneer job requirements:
In many cases Associate Auctioneers who have passed all levels of on-the-job training aboard a cruise ship (time frame depends on the personal qualities and dedication of the individual and ranges from as little as four weeks to several months) become Principle Auctioneers.
In other cases companies may hire directly candidates with previous fine arts gallery and auction sales experience and proven sales record. Candidates must be able to manage the presentational and financial aspects of art auctioning and exceed in fulfilling all of the above mentioned duties.
All candidates must be fluent in English (spoken and written). Knowledge of other languages is a plus.
Salary - earnings are based on commission (percentage of net sales) and vary depending entirely on volume of sales. Sales depend on many factors - personal abilities and selling skills, type of cruise ship (guests), itinerary, type and quality of arts etc. There is no limit for earnings and many principle art auctioneers reach 5 digit numbers, some go beyond that. Accommodation and meals are paid by the company.
Associate Art Auctioneer
Candidates must be clean cut, responsible, money motivated, sales driven and able to stay onboard a cruise ship for minimum of 4 months long contract. Fine art knowledge is a plus, but the companies provide hands on training aboard a cruise ship. The time frame to become a Principal Art Auctioneer varies. Some will advance to the latter position in 4 weeks, others could remain in the Associate position for several months. Once the auctioneers have been thoroughly trained they are responsible for managing and operating their own vessel. Good, clear spoken and written English is a must, as associates must speak in front of multitudes and be able to deal with documentation and sales transactions records. Knowledge of other languages is a plus. Associate Art Auctioneers pass through 3 levels of paid training - only a base salary is provided during the first level, while a base pay plus commission is provided during level two and three ($2,200 to 3,700 U.S. per month).