Cruise Ship Jobs - Assistant Maitre Dí/ Manager - Specialty Restaurant
Back to All Food and Beverage Jobs
Assistant Maitre D'/ Manager - Specialty Restaurant Job Description and Duties: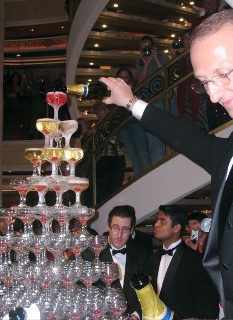 - Reprots to the Maitre Dí/ Specialty Restaurant and directly supervises, supports and evaluates the performance of the subordinate positions in the Specialty Restaurant - Head Chef de Rang, Chef de Rang, Commis de Rang, Sommelier and Utility Cleaner
- Responsible for assisting the Maitre D' Specialty Restaurant in the day-to-day supervision of the staff making sure that the venue is working according to the cruise line policies and standards and passengers are satisfied both with food quality and service
- Mentors, develops and provides on-the-job training to new recruits in order to improve their current performance allowing them to gain skills and abilities for future advancement
- Responsible for notifying the Restaurant Manager - Specialty Restaurant of any cases of disciplinary actions or poor performance
- Must posses a thorough knowledge of fine wines and wine service and would assist with wine service the Sommelier/ Wine Waiter in times of work overload
- Ensures that the revenue targets set by the cruise line are achieved and exceeded through applying various sales techniques, up-selling, suggestive selling and in the same time keeping the cost levels within the limits set by the ship's Restaurant Manager by conducting workstation spot checks to ensure items are correctly stored to minimize deterioration and waste
- Esures that all work stations are properly cleaned and sanitized according to the USPH or/ and UKPH standards
Assistant Manager - Specialty Restaurant Job Requirements:
Formal hospitality training - a diploma from a recognised hotel school or university or international equivalent is preferred

Minimum three to four years hospitality management experience including front of house and back of house operations

Cruise ship experience is preferred

Excellent communication skills and good command of the English language, knowledge of additional language(s) is a plus

Strong managerial skills and ability to work in a multicultural environment

Working knowledge of computers with emails, Microsoft Word, Excel and related printers and equipment
Assistant Maitre Dí/ Manager - Specialty Restaurant Salary Range:
$3000-4200 U.S. per month depending on the cruise line, size of ship, commission and gratuities (tips) from passengers. Possibilities for promotion to Maitre dí Hotel - Specialty Restaurant or Asst. Dining Room Maitre D' position.