Cruise Ship Jobs - Assistant Bar Supervisor / Bar Manager / Beverage Manager
Back to All Food and Beverage Jobs
Assistant Bar Supervisor/ Bar Manager / Beverage Manager Job Description and Duties: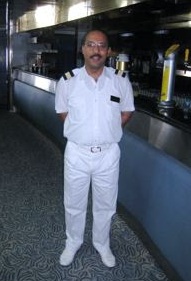 - Reports to the ship's Bar Manager and directly supervises supports and evaluates the performance of the subordinate beverage operation positions - Head Bartender, Bartender, Head Sommelier, Bar Server, Private Bar Attendant and Bar Utility
- Responsible for managing day-to-day operation of the entire Bar/ Beverage department aboard the cruise ship
- Assists the Bar Manager in the on-the-job day-to-day training of ship's Bar Staff covering all aspects of beverage service and makes sure that all bar department team members perform up to the standards of service set by the cruise line
- Addresses passenger complaints reporting them to the Bar Manager and works in a positive and polite manner to resolve problems for both passengers and bar department personnel
- Works hard to increase the volume of sales and in the same time to reduce expenses through cost control as well as ensures a proper maintenance of the bars and related bar equipment (blenders, soda machines, cash registers etc.) throughout the cruise ship
- Esures that all bar staff are trained and familiar with USPH regulations and sanitation in all ship bars and other beverage outlets is up to the standards
Assistant Bar Supervisor Job Requirements:
High school diploma or equivalent and a minimum two-tree years of beverage related managerial experience required

Formal hospitality training is preferred

Excellent communication skills and good command of the English language, knowledge of additional languages is a plus

Strong managerial skills and ability to work in a multicultural environment
Assistant Beverage Manager Salary Range:
$3400-5200 U.S. per month depending on the cruise line, size of ship, commission and gratuities (tips) from passengers. Strong possibilities for promotion to Bar Supervisor / Manager position.