Cruise Ship Able Seaman (AB) Jobs
Back to All Deck Department Jobs
Able Seaman Job Description and Duties: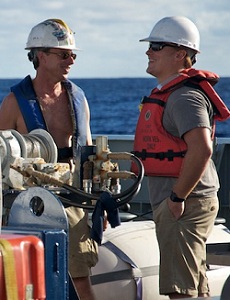 The Able Seaman (AB) is a non-officer member of the deck crew (deck rating position). The main duties and responsibilities of the AB include, but are not limited to:
- Reports to the Bosun (Boatswain)
- Performs a variety of routine maintenance duties in order to preserve the painted surface of the ship such as chipping, cleaning, painting and removing rust spots from deck and sides of ship using hand or air chipping hammer and wire brush
- Responsible for keeping the vessel in a clean, tidy condition
- Responsible in conjunction with the Bosun for the on-the-job training of the ship's deck ratings with Ordinary Seaman rank
- Handles ropes and cables during mooring, berthing and departing operations
- Overhauls and operates emergency and safety equipment such as lifeboats and lifeboat gear
- Performs all operations connected with the launching of lifesaving equipment, lowers and raises tender boats, lifeboats or rescue boats
- The AB may be a member of the ship's firefighting party
- Stands watch at the bow or on wing of the bridge to look for obstructions in path of the vessel
- Participates in crew safety drills
- Operates tenders, lifeboats and rescue boats
Cruise Ship Able Seaman Job Requirements:
Minimum of 3 years experience aboard ships in the role of Able Seaman (AB) or Ordinary Seaman (OS)

AB Able Seafarer (Deck) or the older Able Seaman endorsement (certificate of proficiency)

Candidates must hold STCW basic safety training certificate

Lifeboatman (LB) / Proficiency in Survival Craft and Rescue Boats certificate

Fair command of the English language

Ability to work under pressure in multicultural environment
Able Seaman (AB) Salary Range:
$1300 to 2600 U.S. per month depending on the cruise line and time served with the company. Possibilities for promotion to Bosun (Boatswain) position.