Cruise Ship Jobs - 3rd Officer
Back to All Deck Department Jobs
3rd Officer Job Description and Duties: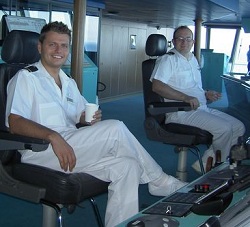 - The Third Officer is an assistant to the OOW or the Junior Watch Keeping Officer on the ship
- Reports to the Officer of the Watch (either 1st or 2nd Officer) for navigation and watch keeping aspects and to the Staff Captain for all other issues
- Acts as a co-navigator on bigger ships, on smaller vessels could perform OOW functions during a day time as delegated by the Master
- Keeps the Master informed at all times of the navigational progress of the voyage and some specifics - current location, speed etc.
- Must be familiar with the voyage plan and the Captainís standing and specific orders
- Participates in mooring and anchoring operations as well as monitors tender operations
- Drives tenders when required by the Staff Captain
- Must be familiar with the duties of the 2nd Officer be able his/her functions if needed
- Assists in the supervision and maintenance of all life saving devices, such as lifeboats, life rafts, life rings, launching appliances, pilot ladders and rescue boats
- Assists in the organisation of safety training inductions of the newly joined crew and monitors attendance at safety drills
Third Officer Job Requirements:
Unlimited Officer of the Watch license plus all required STCW 95 certificates

National Certificate of Competency endorsed by the Flag State

Diploma from an accredited maritime training school or facility

1 year experience on board ships at a minimum position of Deck Cadet

Very good verbal and written command of the English language

Computer literacy - basic Windows based programs

Decision Making, coaching and team building skills
3rd Officer - Navigation Salary Range:
$4500 to 6200 U.S. per month depending on the cruise line. Possibilities for promotion to Second Officer position.