PRINCESS CRUISES MUSICIAN'S PHOTO OF BOEING 747 SPECTACULAR LANDING OVER MAHO BEACH IN ST. MAARTEN
Back to All Crew Members Photos
Register for Cruise Ship Jobs Now!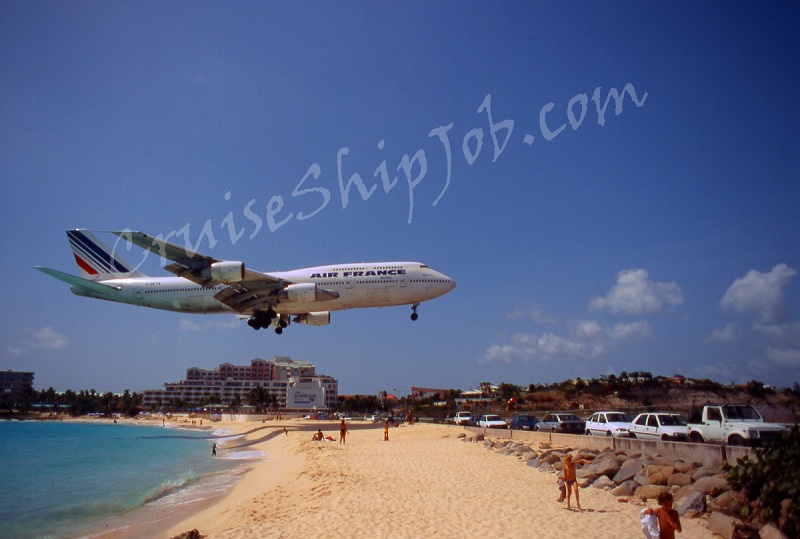 Princess Cruises musician took this photo of Air France Boeing 747-300 landing at Princess Juliana International Airport in St. Maarten. This is one of the very first photos we have received from a hired cruise ship job seeker in 1999.

Arriving aircraft approach the island on the last section of the final approach for Runway 10, low over the famous Maho Beach. Pictures of low flying aircraft were published in several news magazines worldwide in early 2000. The thrilling approaches and ease of access for shooting spectacular images, made the airport one of the world's favorite places among plane spotters.

Sint Maarten (Dutch) and St. Martin (French) is a Caribbean island that is split between the two countries and is a popular port of call for cruise lines. One of the favorite ports of call for cruise ships crew with great beaches (including the famous Club Orient nude beach resort - just several minutes by taxi from the pier).

Princess Cruises is one of the best companies to work for as a musician. The hiring managers at the Home Office are good musicians themselves who have worked aboard company ships before being promoted to their present positions, so they are trying to select high level professional performers for employment. There are always exceptions, though, but in general Princess is employing higher quality musicians than most of the other cruise lines and is highly recommended company for employment. Shared accommodation and the usual deck privileges are provided. Musicians get fixed salaries every two weeks (a company check which can be cashed at the crew office). Flights to and from the ship are paid by the company. Typical length of employment is 4 months (contracts could be extended by either company's or musician's request). By the end of the contract the Bandmaster will write an evaluation of the performance of each musician which will contain recommendation for re-hiring.