Viking Cruises Announces Details Of Its Viking Star Seagoing Ship


Back to All Cruise Industry News




Register for Cruise Ship Jobs Now!



Viking Cruises announced details of its first ocean-going ship, the Viking Star, which is due to enter service in May 2015. She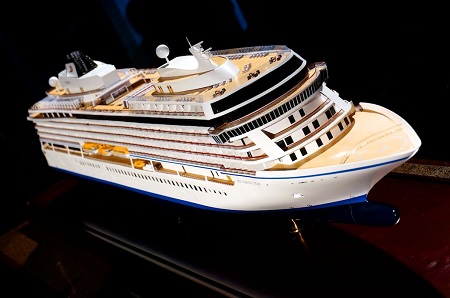 will be the first of a pair of 925-passenger ocean-going cruise ships for Viking Cruises, the new cruise operation that has sprung from Viking River Cruises.

The line also has options for a further four such ships, all with Fincantieri, which could eventually mean a fleet of six such ships. So together with Azamara Club Cruises, with two ships, and Oceania Cruises, with five, there should eventually be thirteen ships serving this segment of the market, which is above premium but not ultra-luxury.

Interestingly, the new Viking Cruises design is actually a larger version of the original Renaissance "R" ship design, but with significant changes.

Viking Cruises is a line that emphasizes geography, culture, history, good food, comfort and value for the money, while its guests are 55 plus, well educated, affluent, curious and active, as well as interested in history, culture and music. Which seems to be a good match for this corner of the cruising market.

When Viking polled its guests, it found that many thought that (1) ocean ships have become too big, (2) too little time is spent at the destination, (3) they are not as good value as you think when you purchase and (4) the small ships are far too expensive

So the announcement of these new ships can only be good news to those who have grown tired of ships growing bigger and more impersonal as they are built to carry 3,000, 4,000 or even 5,000 passengers, with as many diversions as a state fare to keep them busy.

Some of the features of the new Viking Star include:
- all cabins with a private balcony
- a two-deck high observation lounge at the forward end
- an outdoor pool at the stern as well as a midships pool with Magrodome
- a complete walk-around promenade deck beneath the lifeboats and tenders
- the main dining room will have "the best food"
- it will also have floor-to-ceiling windows that slide open
- the spa has been vanquished from deck 9 on top to deck 1 below.

Moving the spa is particularly important as instead of being located in prime space with forward views on top of the ship it has been located on a lower deck. This freed up the area for a two-deck high observation lounge. Why so many cruise lines chose to locate spas in prime real estate is a mystery but Viking is showing respect to its customers by locating theirs elsewhere, thus giving the views back to its guests. Another area that would have been the card room, Internet centre and a Horizons Lounge has been dedicated instead to suites.

Viking Cruises intends to provide excellent value for the money, with fares starting at $420 per person per day, including airfare, shore excursions in each port, concierge service, WiFi, complimentary wine, beer and soft drinks with lunch and dinner as well as specialty coffees, self-service laundry, free room service and all port taxes and transfers to and from the ship.

Interestingly, details of the new 47.800-ton 745-foot 925-passenger Viking Star were announced just six days after Hapag-Lloyd Cruises christened its new 42,839-ton 739-foot 516-passenger Europa 2 in Hamburg.

While cruise-only fares on Europa 2 start at €600 ($800) per person per night, fly/cruise fares on Viking Star will start at $420. The main difference is a passenger space ratio of 52 gross tons per passenger on Viking Star compared to 83 tons on Europa 2, but even at that, 52 is at least 25% more space than offered by many other new ships that are being built today.