THREE SILVERSEA CRUISES SHIPS MEET IN PORT - GREAT OPPORTUNITY FOR CREW GET TOGETHER


Back to All Cruise Industry News




Register for Cruise Ship Jobs Now!



For the first time in the 18-year history of Silversea Cruises, three of the line's ships - Silver Cloud, Silver Wind and Silver Spirit- called in the same port on the same day. The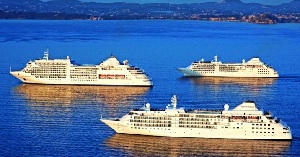 historic convergence of the three ships took place today in Corfu, a Greek island. This is a great opportunity for Silversea crew members to see old friends working onboard other ships of the company.

Surrounded by the sparkling turquoise waters of the Ionian Sea, Silver Cloud, Silver Wind and Silver Spirit greeted each other by sounding their whistles as they sailed into this charming and sophisticated port.

Corfu (or Kérkyra in Greek) is the second largest of the Ionian islands, and a land rich in history and myth. It was likely the last stop for Homer's Odysseus on his fabled journey back to his homeland of Ithaca. For Silversea, Corfu will always carry special significance as the port that hosted an important milestone in the company's own unfolding story.

Silver Wind and Silver Spirit are on 7-day sailings in the Greek Isles. Both itineraries include stops in Croatia and Italy, as well as Montenegro for Silver Wind. Silver Cloud is sailing from Venice to Barcelona on a 12-day Mediterranean voyage.