The new Royal Caribbean "Anthem of the Seas" ship will be based in Southampton


Back to All Cruise Industry News




Register for Cruise Ship Jobs Now!



Royal Caribbean International recently announced that its 167,800-ton Anthem of the Seas, second of its new "Quantum"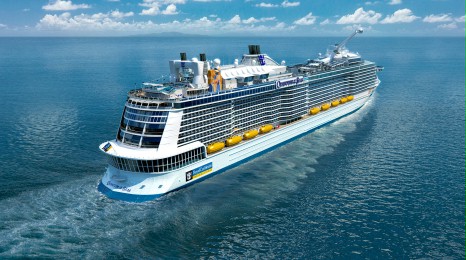 class ships, will be based in Southampton when she joins the fleet in 2015.

One of the themes of the presentation was anthems, of which the UK has more than its fair share, with the National Anthem, Land of Hope and Glory, Jerusalem and of course the naval anthem Rule Britannia, as well as the European anthem, Beethoven's Ode to Joy.

Certainly the name Anthem of the Seas will go over a lot better in the UK than the 154,407-ton Independence of the Seas, which she replaces, which seemed like a mild dig to remind the UK of America's own declaration of independence.

The new ship, able to carry 15% more passengers than the Independence of the Seas, will join the other Royal Caribbean and Celebrity ships at Southampton in the battle for the UK market.
The Anthem of the Seas will be about a fifth larger than P&O Cruises' new Britannia, almost 60 feet longer than the new P&O flagship and will carry 580 more passengers.

On this note, the Independence of the Seas was also larger than the Britannia.

Equally, Royal Caribbean's second Southampton-based ship, Adventure of the Seas, is about a fifth larger than P&O's Azura, with about 70 feet more length. After the addition of 75 new cabins in April 2014, she will carry 168 more passengers than P&O's second ship, but will still offer 13% more space per passenger.

The Anthem will offer Mediterranean cruises from Southampton from April 2015 and will be based in the UK for the summer months before moving to Fort Lauderdale for the winter. She is expected to carry more than 80,000 passengers from Southampton in 2015.

Dominic Paul, vice president international at Royal Caribbean International was quoted as saying, "we've had real success in the UK and guests love what we offer. When we introduced Independence of the Seas into Southampton in 2008 it was a ground-breaking ship and move and we think Anthem of the Seas from 2015 will take that to the next level in the UK market."

The Anthem will also have several shipboard firsts, including a skydiving attraction and the North Star capsule, which will be based on the pods on the London Eye and will be able to raise passengers 300 feet over the ocean.

A music hall and new bar will also come with the new ship, with the former to host intimate live performances and disc jockey sets.

Inside, the ship will have bumper cars and roller-skating as part of a larger sports complex, while its staterooms will be larger than previous Royal Caribbean ships and inside cabins will include "virtual balconies" on screens.