ROYAL CARIBBEAN'S JEWEL OF THE SEAS DAMAGED IN EUROPE. CREW MEMBER INJURED.


Back to All Cruise Industry News




Register for Cruise Ship Jobs Now!





A Royal Caribbean ship visiting the Faroe Islands today hit an overhead cable strung between two islands in an incident that left one crew member injured and the ship's mast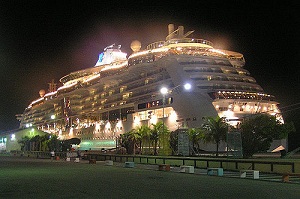 damaged.

Royal Caribbean says the 2,110-passenger Jewel of the Seas remains seaworthy and has continued on with its trip, a 16-night sailing from Harwich, England to Boston.

"While the ship did sustain some damage to equipment located on the mast, as well as to the mast itself, this in no way affects the seaworthiness of the ship," the line says in a statement. "Local officials responded to Jewel of the Seas, and after inspecting the damage to the ship concluded that the ship can safely sail."

Royal Caribbean says the injured crew member was hit by falling debris and was transferred to a Faroe Island hospital after being initially treated onboard.

The line says it doesn't know why the ship hit the cable, which extends between the Faroe's Bordoy and Eysturoy Islands and is high in the air.

"All the navigational tools and charts we use to plan our voyage, including information we obtained from the local port authorities and harbor master in advance of our arrival, indicated we had enough clearance to pass under the cable," the line says. "We are working closely with the local authorities to determine why this incident occurred."

Jewel of the Seas was pulling into the Faroe Islands town of Klaksvik at the time of the incident.

Located north of Scotland between the Norwegian Sea and the North Atlantic Ocean, the Faroe Islands is a self-governing nation under the sovereignty of Denmark.

Jewel of the Seas departed Harwich on Aug. 31 and will be stopping in Iceland and Newfoundland, Canada before arriving in Boston on Sept. 16.