Queen Mary 2 Completes 200th Atlantic Crossing
Back to All Cruise Industry News
Register for Cruise Ship Jobs Now!
Cunard Line's flagship Queen Mary 2 completed her 200th North Atlantic Crossing on Saturday, when she arrived at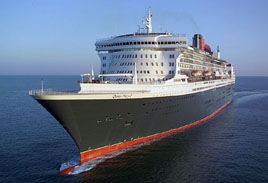 Southampton from New York, from whence she had sailed on Saturday July 6.
Queen Mary 2 is the largest, longest, widest and most expensive ocean liner ever built, and is now the only ocean liner in regular service. On board for the voyage were keynote speakers presenting talks about the ship, as well as special Big Band performances.
In the course of Queen Mary 2′s 200 Transatlantic Crossings, Cunard Line has now carried half a million Transatlantic passengers in her.
Outgong Cunard line president Peter Shanks said, "As each year in service passes, Queen Mary 2 becomes even more special and we will continue to celebrate and cherish her milestones and history. Looking at Cunard's earlier Queens, Queen Mary crossed the Atlantic 1,001 times, Queen Elizabeth crossed 896 times and Queen Elizabeth 2 crossed 812 times."
To commemorate her 200th Crossing, Stephen Payne OBE, who was responsible for the overall design of Queen Mary 2, presented his own insight into the ship's construction.
"Queen Mary 2 embodies the attributes of a true liner, including reserves of stability and deep draught. Combined with her great size, these attributes ensure that the ship can achieve a level of Atlantic sea-keeping superior to any other liner in history," said Payne. "No other passenger ship is as much at home on the North Atlantic as Queen Mary 2."