Princess Cruises Announced Senior Officers for the New Regal Princess


Back to All Cruise Industry News




Register for Cruise Ship Jobs Now!



Princess Cruises has announced that Captain Ed Perrin will be at the helm of its next new ship, Regal Princess, leading a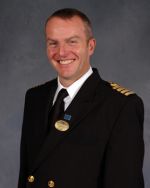 senior officer team with more than 100 years of seagoing experience among them. The senior four-stripe team will also include Relief Captain Dino Sagani, Relief Captain John Foster, Chief Engineer Rosario Segreto, Hotel General Manager Dirk Brand, and Staff Captain Aldo Traverso.

Following in the wake of sister ship Royal Princess, Regal Princess launches in June 2014 for a season of Mediterranean cruising. The ship will offer the same dramatic features that have already made headlines on Royal Princess, including a soaring atrium, the dramatic over-water SeaWalk, the new Princess Live! television studio, a special Chef's Table Lumiere, and balconies on all outside staterooms.

"It takes a talented team to bring out a new vessel of this caliber," said Jan Swartz, Princess Cruises executive vice president. "These skilled officers bring considerable seagoing and management skills to the new ship's maiden season."

Captain Ed Perrin – Captain Edward Perrin has been in command of numerous Princess ships since 2006, beginning with the former Tahitian Princess sailing in French Polynesia. Captain Perrin attended the College of Maritime Studies in Southampton and worked aboard several types of cargo ships before setting off aboard cruise ships. He then joined Princess in 1996. A native of Dorset on the South West Coast of England, Captain Perrin grew up watching the cargo ships and ocean liners sail from local ports, which sparked his growing desire to work at sea.

Relief Captain Dino Sagani – Captain Dino Sagani commanded a variety of Princess vessels, including Sea Princess, Dawn Princess, Sapphire Princess, Diamond Princess, and most recently as relief captain on Royal Princess. Sagani was born in Trieste on the North East Adriatic coast of Italy. Following the family tradition, he studied at the Nautical College in Trieste, which is one of the oldest Nautical Schools in Europe. On completion of his studies, he joined the Italian Navy, serving on a minesweeper during the first Gulf War. After the Navy, he joined Princess Cruises in 1995, where he quickly climbed the ranks and was promoted to captain in 2007.

Relief Captain John Foster – Captain John Foster has most recently commanded Sea Princess and Grand Princess. Foster started his seagoing career as an officer cadet with Esso tankers at the age of 16. After completing his cadetship, he joined his first Princess ship – the original Royal Princess. He was also assigned to the new build projects of Dawn Princess, Grand Princess and Island Princess. Foster was born in the maritime city of Liverpool, on the banks of the river Mersey, on the North West coast of England, where he still resides.

Chief Engineer Rosario Segreto – Chief Engineer Rosario Segreto has held this position for Princess Cruises since 1999 and is now one of the most senior chief engineers in the Princess fleet. In 2010, he was asked to participate in the design and development of the new class of ships, Royal Princess and Regal Princess, and has spent the past several years working extensively with the shipbuilding team. Segreto is from the small town of Villamassargia on the island of Sardinia, Italy, and graduated from the Nautical School in Cagliari, Sardinia in 1980. He began his career at sea as a cadet engineer on tanker and cargo ships. He joined Princess Cruises in 1988.

Hotel General Manager Dirk Brand – Hotel General Manager Dirk Brand will oversee all hotel functions aboard Regal Princess, a position he has held aboard a variety of Princess ships, including most recently Royal Princess and Ruby Princess during the ships' inaugurals. He has also worked aboard the ships of sister company Cunard. Brand was born in Berlin, Germany and grew up in Munich. After completing his education and apprenticeship in hotel management, he served with the Air Force in Sardinia, Italy. Fluent in three languages, Brand began his career at sea in 1998 as a senior assistant food and beverage director during the inaugural season of Grand Princess. He currently resides in Spain.

Staff Captain Aldo Traverso – Head of the deck department and second in command to the captain, Staff Captain Aldo Traverso joined Princess in 1998 aboard the original Regal Princess. A native of Genova, Italy, Traverso graduated from that city's Nautical Institute, after which he served in the Navy – first at the Naval Academy in Livorno and then on board a Navy vessel. His Princess career began as an able seaman fireman, after which he rose swiftly through the ranks to his current position. Today, Traverso resides in the Piemonte region of Italy.

Regal Princess, will debut on June 2, 2014 with a seven-day inaugural voyage from Venice to Barcelona. The ship will then sail on a 10-day Mediterranean & Aegean cruise, followed by a season of Princess' signature Grand Mediterranean cruises, with two itinerary choices.