PRINCESS CRUISES INVITES PASSENGERS TO TELL THEIR PRINCESS STORIES ON FACEBOOK
Back to All Cruise Industry News
Register for Cruise Ship Jobs Now!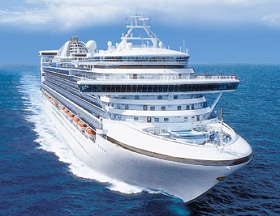 Princess Cruises has debuted a new section on its Facebook page dedicated to stories from passengers. This new Princess Stories "tab" offers a unique space just for Facebook users to share tales of their favorite Princess experiences, whether they be discovering new places and people, interactions with crew members, connections with family and friends, a milestone celebration or a romantic occasion.
The section will be updated regularly so readers can enjoy, rate, and comment on, new stories as they are posted. In addition to stories shared by users, the space also features "Our Favorite Story from the Mailbag" showcasing interesting stories shared with Princess. "Our fans have told us some fantastic stories over the years, and with this new feature on our Facebook page, we can share stories we love and also give passengers a formal place to recount their best memories from their cruises," said Jan Swartz, Princess Cruises executive vice president.
Among the first stories featured in the Princess Stories section are tales of secret weddings, meeting future spouses at sea, and even a guide dog's cruise experience. The first featured "From the Mailbag" story describes a chance meeting with a Princess employee who went out of her way to make sure some delayed passengers made it to their ship -- by driving them to the port herself.
The Princess Stories section can be reached directly here or by logging onto Princess' Facebook page at facebook.com/PrincessCruises and clicking on "Princess Stories" in the left navigation column. Additional information about Princess Cruises is available through a professional travel agent, by calling 1-800-PRINCESS, or by visiting the company's website at www.princess.com.