PRINCESS CRUISES TO ADD ANOTHER 4,000 PLUS JOBS ABOARD THE NEWBUILD ROYAL PRINCESS AND REGAL PRINCESS


Back to All Cruise Industry News




Register for Cruise Ship Jobs Now!



Royal Princess is an evolutionary rather than revolutionary design, according to the executive vice president of fleet operations for Princess Cruises, Rai Caluori. The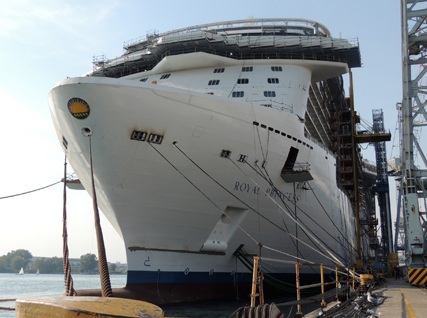 141,000-ton, 3,600-passenger ship will be a "prototype" for future new builds and will be the blueprint for sister ship Regal Princess, which will launch in 2014.
Both ships will offer another 4,000 plus jobs within the Princess fleet.

Princess also confirmed the new ship will operate limited U.K. sailings next year but would operate in the Mediterranean and the Caribbean in the longer term.

Speaking at the first yard visit to the ship, in Trieste, Italy, Caluori said: "Royal Princess is in many ways a prototype, but it reflects the design of our other ships.

"We didn't want to build a ship that would be an 'outlier' and inconsistent with our fleet. We wanted to build a ship that reflects our fleet."

The ship, due to launch in June 2013, develops and enhances many of the more popular spaces onboard Ruby Princess, including The Piazza and Atrium, which is half again as big as on Ruby.

Caluori added:

"Every single public space is different from Ruby Princess, the last ship built here [five years ago]."

One of the significant changes will be waiter service in the evenings in the Horizon Court, which previously was self-service. It will also have 60 percent more two-person and four-person tables and fewer tables for eight.

The adjacent Horizon Bistro is another first for Princess - a self-service salad, carvery and sandwich station with bar-style chairs and tables.

Other new features include the Sea Walk, a glassed-over walkway over the side of the ship above the water; the largest "Movies Under the Stars" at sea; and a larger adults-only area known as "The Retreat", which will feature six luxury cabanas for rent, complete with TVs and fridges and a South Beach-style feel in the evening.