ORION EXPEDITION CRUISES OFFERS TO THREE LADIES THE JOINT TITLE OF GODMOTHER FOR THEIR LATEST SHIP, ORION II.
Back to All Cruise Industry News
Register for Cruise Ship Jobs Now!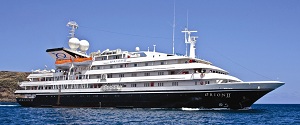 Having travelled on over 50 voyages between them, Godmothers Jill Bennette, Laurel Norris and Shirley Turtle joined Sarina Bratton, founder and managing director of Orion Expedition Cruises at the christening in Seattle.
Orion's inaugural 24-night voyage from Vancouver to Otaru, Japan will depart on 10 June with many guests onboard who travelled on Orion's first voyage from Tahiti to Australia in 2005.
Commenting on the popularity of the 'bigger and better' megaliner of late, Ms Bratton said, "…instead of a theatre with wide screen movies we offer the real thing, 3D outdoor 360 degree panoramas to far horizons with surround sound emanating from cascading waterfalls or the rhythmic beat of drums. Our rock climbing takes place up real cliffs."
"This is not growth for the sake of growth. We are expanding to meet demand from past guests and new guests who seek stimulating adventures exploring paths less travelled."
Up to 100 guests can be accommodated onboard with each suite offering ocean views, separate living area, iPod dock, flat screen TV and DVD player.
Onboard facilities include a library with internet access, beauty salon, two lounges with complete AV, state-of-the-art gym and spa, dining room and swimming platform among others.
Following her inaugural voyage, Orion II will embark on expeditions to the Russian Far East, Inland Sea of Japan and the Ryukyu Islands before heading on a variety of 10-night itineraries around Borneo.