THE OCEAN STAR PACIFIC MAY SOON SAIL AGAIN
Back to All Cruise Industry News
Register for Cruise Ship Jobs Now!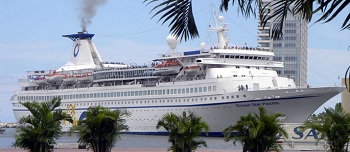 The Ocean Star Pacific may soon sail again if Peter Villiotis and his ship management company, ALAS/PV Enterprises International, succeed in their venture. Villiotis has previously entered into a charter agreement with an option to buy the Ocean Star Pacific from her current owners, who have, at least for now, given up on their Ocean Star Mexican cruise project. Villiotis said he has made a $5 million down payment.
Villiotis brushed off some reported complaints by crew of unpaid wages and mistreatment, noting that his company had fallen a little behind on pay but was straightening it out. He also said he has spent $285,000 on food for 150 crew members for 65 days. He said that is a lot more money than most cruise lines spend on food for crew. Plus, the crew onboard are living in passenger cabins, so he said they have little reason to complain.
A previous $13 million, four-month charter to Korean interests for the 1,231-passenger ship to be used as hotel accommodations in conjunction with an exhibition in South Korea fell through. Meanwhile Villiotis said his plans range from launching a cruise line out of Colon, where his company already operates a ferry service, to chartering the ship to a tour operator, who will take over the sales and marketing, while he runs the ship operations.
Freddy Dellis, CEO of Ocean Star, confirmed that his start-up venture suffered an engine-room fire a few days after launching service in April 2011. The ship was subsequently repaired, but then new generator problems developed in July that led the company to take the ship out of service. It has since been laid up in Mazatlan.
Dellis said that Ocean Star had not been satisfied by the services provided by the original ship management company, so they instead hired V. Ships to give them a full assessment of the ship. It needed substantial work before it could be put back into service, according to Dellis. Consequently, the ship was put up for sale in October (2011). Last spring, Ocean Star started negotiations with PV Enterprises to take control of the ship with an initial bareboat charter.
At press time, the Ocean Star Pacific was reported to be ready to sail with class notation by Det Norske Veritas.
Dellis said further that Ocean Star is still interested in going back into the vacation market on the West Coast and in Mexico in the next two years, but with a different ship. He added that market demand was there – from both the vacation market and the corporate/incentive market. Ocean Star was said to have tapped into a mid-level Mexican market that was turned off by the added cost of flying to Miami and obtaining U.S. visas. In Mexico, Dellis said Ocean Star had provided door-to-door luxury coach service from Mexico City and Guadelajara to Acapulco.
When Ocean Star acquired the ship from Louis Group in 2011, she was refurbished in Curacao before entering service. Originally built in 1971 as the Nordic Prince for Royal Caribbean Cruises, she sailed as the Carousel for Sun Cruises and then the Aquamarine for Louis Cruises.
Villiotis has been involved in the cruise industry since 1981, working for Carnival Cruise Lines, Regency Cruises and others, involved in newbuilds, refurbishments and vessel management.