CRUISE & MARITIME VOYAGES TO REPLACE OCEAN COUNTESS WITH MV DISCOVERY


Back to All Cruise Industry News




Register for Cruise Ship Jobs Now!





The news broke last week that All Discovery Cruises would be chartering its 700-passenger Discovery to Cruise & Maritime Voyages, who will use the ship beginning in February 2013 to offer cruises in Northern Europe, the Med and the Black Sea. She completes her last Voyages of Discovery cruise next month, after which she will go for a previously-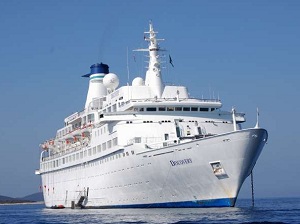 planned month-long refit before delivering to Cruise & Maritime Voyages. Discovery - Voyages of Discovery

In its first season, Cruise & Maritime will operate the Discovery for a period of 249 days.

It is understood that the five-year charter, which has been described as a form of "joint venture" between All Discovery and Cruise & Maritime, will extend All Discovery's product offerings from luxury and destination cruising into the value end of the market.

Departures will be offered from five UK ports – Bristol, Liverpool, Hull, Newcastle and Harwich, together with fly-cruises to the Med and Black Sea in autumn 2013. The addition of fly-cruises is a new step for Cruise & Maritime, which up till now has operated on a cruise-only basis from the UK.

In its own statement, All Discovery Cruises said that "The new program will offer a range of UK regional departures as well as some Mediterranean fly cruises. The on board experience will be provided by CMV with entertainment options including production shows, comedians and specialty acts as well as guest speakers on the longer cruises. Bookings on Discovery for departures from February 2013 will now be made through CMV and a new CMV brochure that features Discovery will be sent out shortly."

The Discovery will replace Cruise & Maritimes' usual summer charter of the 780-passenger Ocean Countess. Chris Coates, director of Cruise & Maritime Voyages, added "We have enjoyed three highly successful summer seasons operating Ocean Countess, and now look forward to operating the upgraded Discovery and establishing her as a great value cruise brand."
Discovery will remain a two-sitting ship for meals and certain other on-board changes will also be evident (for example, gratuities will now be extra).Voyages of Discovery's Voyager ex Alexander von Humboldt

Meanwhile, Voyages of Discovery will continue to operate with its new 550-passenger Voyager, which enters service on December 4.

Being a single-sitting ship with a few extra balconies, the Voyager will bring a new standard of service to the style of discovery cruising that Voyages of Discovery operates, enabling guests to explore and learn about different destinations, cultures and history. (The bottom image is Alexander von Humboldt before conversion and the top image Voyager as converted, with modified blunt bow and the addition of thirty new balcony cabins).
[Alexander von Humboldt - In November 2012 she will start sailing for Voyages of Discovery with a new name, MV Voyager]

All Leisure Group, owners of Voyages of Discovery and Swan Hellenic, as well as Hebridean Island Cruises (and since May Page & Moy), lost £11.2 million during the first half of this year, so the charter of the Discovery to Cruise & Maritime will not only mean that the ship has a continued revenue stream, but Voyages of Discovery will have 23% fewer berths to fill on the Voyager rather than having to add yet another ship in harsh economic times. Marco Polo - Photo M. Sudders

Cruise & Maritime's 848-passenger Marco Polo will continue to operate year-round from Tilbury, with longer cruises on offer during the winter period. The lower capacity of Discovery compared to Ocean Countess will also mean that Cruise & Maritime will have about 10% fewer berths on its second ship, although the charter period will be different.