MSC Lirica (MSC Cruises) Returns to Dubai and Abu Dhabi for the 2013/2014 Winter Season


Back to All Cruise Industry News




Register for Cruise Ship Jobs Now!



MSC Cruises has announced that MSC Lirica will return to the United Arab Emirates (UAE) for the 2013/2014 winter season, taking travellers on an unparalleled journey of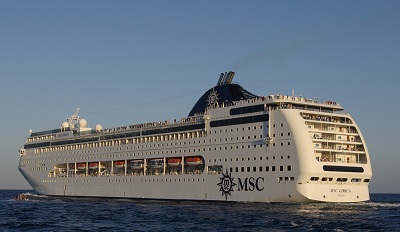 discovery through the region's rich traditions, vibrant modernity and dramatic landscapes.

On 5 November 2013, MSC Lirica will set off on a 19-day/18-night grand voyage from Genoa, Italy, arriving in Dubai, UAE, on 22 November 2013 after calls in Civitavecchia, Italy, La Valletta, Malta, Piraeus, Greece, Port Said, Egypt, Safaga, Egypt, Salalah and Muscat, Oman.

From 23 November 2013 until 29 March 2014, MSC Lirica will offer 18 eight-day/seven-night cruises from Dubai, calling in Abu Dhabi, UAE, Khor al Fakkan, UAE, and Muscat and Khasab, Oman, with an overnight stay in Dubai allowing travellers to enjoy the unique nightlife of this glittering oasis of the desert.

"MSC Cruises' return to the Emirates reaffirms our strong belief in the region's potential as an innovative and highly desirable destination for cruise travellers," said MSC Cruises CEO Pierfrancesco Vago.

"As part of a broad commitment to encouraging future growth, the UAE government's recent decision to allow multiple entry visas for cruise ship passengers has dramatically simplified visa procedures, making the region even more attractive to cruise lines and ensuring that many more travellers can discover this truly unique destination with ease."

During MSC's Emirates adventures, travellers can enjoy a shore excursion programme designed to reveal the magic and mystery of this enigmatic world of spectacular contrasts.

Enjoy unspoiled beaches and rugged mountains views

Khor al Fakkan is the perfect gateway from which to discover desert dunes, typical wadis and spectacular oases, as well as the rugged Masafi and Hajar Mountains and the stunning beaches and warm waters of the Indian Ocean. Visitors can also enjoy trips to the oldest mosque in the UAE, Fossil Rock, famed for fossils dating back some 80 million years and Camel Rock, a spectacular, eponymously shaped outcrop in the middle of the desert.

Explore mystical Muscat

Travellers in Muscat have a whole host of mystical landmarks to behold, from the Al Alam Palace, flanked by the breath-taking Al Jalali and Al Mirani forts, to the captivating Sultan Qaboos Grand Mosque with its five impressive minarets. Popular sites include the old town's bustling souk, the Bait Al Zubair archaeological museum and the exclusive Amouage perfumery with its timeless natural fragrances.

A relaxing cruise on a traditional Arabian dhow is the perfect way to discover Khasab - also known as the "Norway of Arabia" thanks to its sinuous coastline - and its fjord-like waters, pretty fishing villages and limestone cliffs. Travellers can enjoy a refreshing dip by historical Telegraph Island and, if they're lucky, a friendly dolphin may even stop by to say hello.
An ultramodern city steeped in tradition and flanking both the coast and the Arabian Desert, Dubai and its eclectic mix of natural and man-made wonders is impossible to define. For the glitz and glamour of modern Dubai, travellers can head to the sumptuous Burj Al Arab Hotel, the only

7-star hotel in the world; the magnificent Palm Jumeirah, the largest man-made archipelago of islands in the shape of a palm tree; or one of Dubai's swanky neighbourhoods. The city's incredible shopping, amazing skyscrapers, beautiful modern marina, perfect weather and unparalleled nightlife make it a true haven for hedonists.

Abu Dhabi is home to some awe-inspiring architecture, futuristic skyscrapers and magnificent mosques, including the hauntingly beautiful Sheikh Zayed Mosque, a masterpiece of neo-Islamic architecture and one of the largest mosques in the world. Heritage Village, Emirates Palace, Al Ain archaeological site and Manarat Al Saadyat, a centre recounting the development of the richest city in the world, are all fascinating insights into this modern metropolis. Travellers can also experience the thrill of an unparalleled shopping experience, or of riding the world's fastest roller coaster at the Ferrari World Theme Park.