LINDBLAD EXPEDITIONS - NATIONAL GEOGRAPHIC TO FEATURE NATURALISTS, A NATIONAL GEOGRAPHIC PHOTOGRAPHER AND CERTIFIED PHOTO INSTRUCTOR


Back to All Cruise Industry News




Register for Cruise Ship Jobs Now!



Lindblad Expeditions-National Geographic next year will operate a 15-day voyage to Greenland, Baffin Island, Newfoundland and Labrador. Set for departure on Aug. 24 aboard the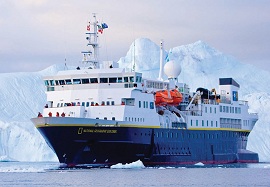 148-guest National Geographic Explorer, the expedition will feature former Canadian Prime Minister Kim Campbell, the first and only female to hold that position.

Also planned are a Zodiac cruise among Ilulissat Icefjord, a UNESCO World Heritage Site; the Viking village of L'Anse aux Meadows, established in 1000 and discovered in 1960; meetings with Inuit artisans to learn about their carving and weaving traditions; and viewing seabirds and marine mammals on the stark Button Islands.

The cruise also will feature naturalists, marine biologists, an undersea specialist, a National Geographic photographer and a Lindblad-National Geographic certified photo instructor.