GRAND PRINCESS - SKYWALKERS NIGHT CLUB REMOVED (NO MORE SHOPPING HANDLE)
Back to All Cruise Industry News
Register for Cruise Ship Jobs Now!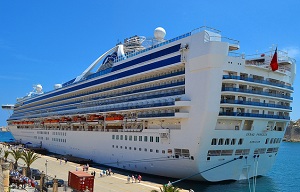 Many have commented over the years on the Skywalkers night club on Grand Princess and some of her sister ships, and how it makes the ship look like a shopping trolley, or at best looks like a spoiler on a hot rod. But now that will be all over in a major remake of the ship that will actually give her tiered pool decks aft and allow the sun to shine on her after decks.
During the 24-day makeover this spring at the Grand Bahama Shipyard, the Grand Princess will receive many of Princess' trademark features, introduced since her début in 1998, including the signature Piazza atrium. Several new features will be also be added, including a tea lounge and library called "Leaves"; and a full-service pizzeria called "Alfredo's, as well as a steakhouse called the "Crown Grill."
A new nightclub called One5, for its location on deck 15, will be installed on the top deck to replace the shopping buggy handle. Skywalkers will be removed in a change that will significantly improve the operational performance of the ship, something that will include greater fuel efficiency.
"This is the largest makeover we've ever undertaken for any of our ships," said Jan Swartz, Princess Cruises executive vice president. "When Grand Princess was launched she was the most innovative ship at sea, and now were adding some of the later innovations we introduced on subsequent ships."
The rebuilt ship will debut on May 5 in Ft. Lauderdale, when she will depart on a Transatlantic crossing back to Southampton, where she will cruise to a variety of European itineraries.
In an interesting departure from what the other major lines are doing, Princess Cruises will in future be promoting their product as a relaxing one, and less frenetic than the likes of NCL, Royal Caribbean and sister brand Carnival. The approach will be more traditional and even the lay-out of Grand Princess's new after decks looks more traditional.