Cunard Line's Queen Elizabeth to Meet the Legendary Queen Mary in Long Beach, California
Back to All Cruise Industry News
Register for Cruise Ship Jobs Now!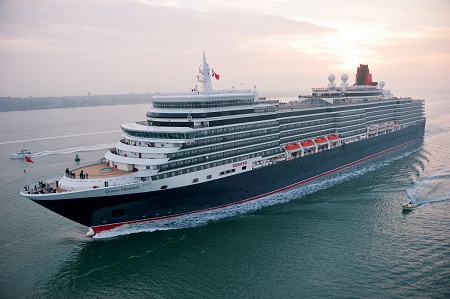 On March 12 2013, Cunard Line's Queen Elizabeth and the legendary Queen Mary will make history when they meet for the first time in a Cunard Royal Rendezvous in Long Beach Harbor. This rare evening encounter will be open to the public and will feature traditional whistle salutes between the ships and conclude with a fireworks display.

Adding to the significance of this event, the Royal Rendezvous will be Queen Mary's first encounter with a Queen Elizabeth since 1967 when Queen Mary, during her final Transatlantic Crossing in Cunard service, passed by the original Queen Elizabeth on the morning of 25 September.

"The Queen Mary is a cornerstone in our nearly 175-year history, and we are very pleased to introduce our youngest Cunarder to this legendary ship in festive Royal Rendezvous fashion," said Peter Shanks, president of Cunard Line.

"What a fantastic time this fusion of voyages past and present will be for the Queen Mary, Queen Elizabeth and Cunard," said Everette Hoard, commodore of the Queen Mary. "Those that witness this splendid day in history will undoubtedly carry the Queens in their hearts forever."

The best public viewing location of the Royal Rendezvous is on the Promenade Deck of the Queen Mary, at the aft (back) of the ship. Free access to the ship will be offered from 4:00-9:00pm; parking will be $15.00. A DJ will be on deck providing musical entertainment while everyone eagerly awaits this historic meeting. Queen Elizabeth will sail into Long Beach Harbor at approximately 6:30pm, and the fireworks display will begin at 7:30pm.

During Cunard Line's legendary history, the iconic Queen Mary epitomized the Golden Age of Ocean Travel and served as a Cunard liner for more than 30 years. She also served as a British Royal Mail Ship (RMS) and as a troopship during World War II. Winston Churchill credited Cunard with ending the war one year early due to the troop transport that both the Queen Mary and the original Queen Elizabeth provided.

The Queen Mary's influence lives on today, inspiring Cunard's modern fleet; and she continues to be a popular tourist and maritime destination as a hotel and museum in Long Beach Harbor, located 40 kilometers south of Los Angeles.

The elegant Queen Elizabeth captured the world stage in 2010 when she was christened in a Royal Naming Ceremony by Her Majesty The Queen in Southampton, England, amongst more than 1,500 guests, celebrities and dignitaries.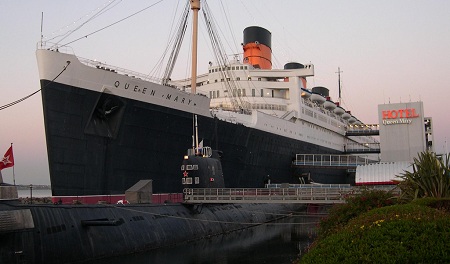 The youngest in Cunard Line's fleet, Queen Elizabeth recalls the rich heritage of the first Cunarder to bear the name, and features many unique Cunard traditions linking her with her sister ships and their predecessors, together with all the modern day luxuries Cunard guests have come to expect.

The ship's adherence to liner traditions is most evident through art deco touches, elegant double- and triple-height public rooms on a grand scale, luxuriously endowed with rich wood paneling, intricate mosaics, hand-woven carpets, gleaming chandeliers and cool marbles. In addition, Queen Elizabeth reintroduced The Verandah Restaurant which was first conceived on the Queen Mary and pays homage to her predecessor with replicas of the legendary ship's artwork.

Key features of Queen Elizabeth which are on display in the Grand Lobby include a specially commissioned portrait of Her Majesty The Queen, as well as an 18.5 ft. marquetry piece of the original Queen Elizabeth, expertly created by David Linley, the only nephew of Her Majesty.

Earlier in the day, Queen Elizabeth will have returned from a 36-day roundtrip voyage from Los Angeles through New Zealand, and departs on the 12th at 5:00pm en route to New York via the Panama Canal.